What is an Asset Protection Zone?
Also known as a fire protection zone, Asset Protection Zones are managed in a way to reduce the impact of bushfire as vegetation is kept trimmed and controlled. The aim of these areas is to protect human life and also reduce the impact of bushfire to surrounding properties and highly valued assets.
Keeping Asset Protection Zones (APZs) in Port Stephens is one of the many ways Council tries to prevent the spread of fire from council managed land to neighboring properties. We monitor and maintain bush fire risk throughout the council area to ensure the safety of residents from the threat of bush fires.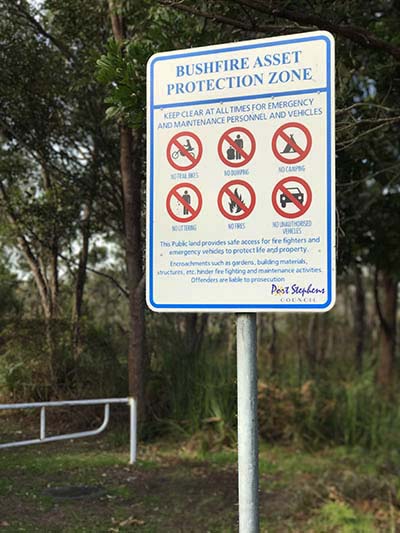 Keep Asset Protection Zones clear
Here are the things you need to avoid to keep asset protection zones clear:
Don't dump waste
Don't plant trees or shrubs
Don't store any sort of equipment or bulky items
Don't park vehicles within an APZ
Clogging and littering Asset Protection zones is illegal. It presents a hazard to the neighbourhood and blocks access for emergency vehicles in the event of a bushfire.
For more information about Asset Protection Zones please contact us on 4988 0255 or visit NSW Rural Fire Service.