Port Stephens Planning Strategy
The Port Stephens Planning Strategy is the overarching land use strategy for the local government area providing future direction for Port Stephens over a 25 year period.
All communities in Port Stephens are considered to be significant and all play an important role in how Port Stephens functions as an area.
The Strategy was adopted by Council on 20 December 2011 and provided a rationale for the land use planning policies that were included in the Port Stephens Local Environmental Plan 2013 and the Port Stephens Development Control Plan 2014. The Strategy is just one of a suite of high level strategic documents produced by Council as a guide for it's operations and the future growth and sustainability of the Port Stephens local government area. The other high level documents include the Port Stephens Integrated Strategic Plans.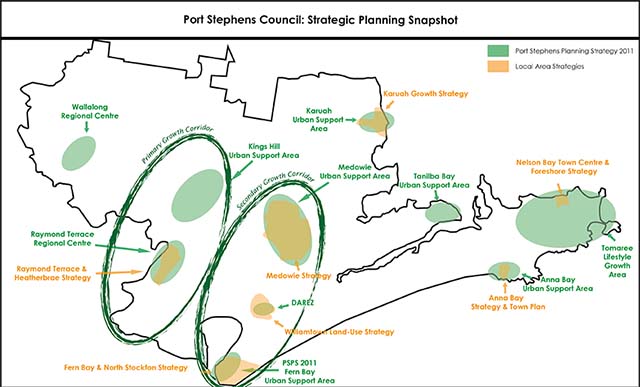 Local Strategic Planning Statement
Council is developing a Local Strategic Planning Statement (LSPS) which is a new requirement for all councils in NSW.
The LSPS will set out the 20-year vision for land-use in the local area, identifying the special character and values that are to be preserved and how change will be managed into the future.
The LSPS will implement actions in the Hunter Regional Plan and Greater Newcastle Metropolitan Plan in addition to the community's own priorities identified in the Port Stephens Community Strategic Plan.
The LSPS will shape how the development controls in the Port Stephens Local Environmental Plan (LEP), such as zoning and building heights, evolve over time to meet the community's needs, with the LEP the main tool to deliver the council and community's plan.
When adopted, the LSPS will repeal the Port Stephens Planning Strategy and be the key resource to understand how strategic and statutory plans will be implemented across Port Stephens.
Public Exhibition
Council has prepared a draft LSPS for public exhibition and invites you to comment. Find out more and have your say.
Contact
Strategic Planning Unit