Raymond Terrace and Heatherbrae Strategy 2015-2031
The Raymond Terrace and Heatherbrae Strategy 2015-2031 was adopted by Council on the 24 November 2015. The Strategy contains four goals to achieve the future vision of Raymond Terrace and Heatherbrae. Each of these goals are provided with strategic directions that are linked to tangible actions that will be implemented within the life of this strategy.
The vision for Raymond Terrace is;
a strong major regional centre and a great place to live, work and play.
Goal 1
A competitive economy with regional services, including transport, health, justice, government, commercial, retail, industrial and entertainment
Direction 1.1 Growing a more regionally competitive centre by providing lands to strengthen the retail offering of Raymond Terrace and facilitating Heatherbrae as a destination for bulky goods
Actions
1. Monitor the supply of B3 Commercial Core and IN2 Light Industrial zoned lands in Raymond Terrace

2. Rezone 4.5ha of land on the western side of the Pacific Highway to B5 Business Development to facilitate Heatherbrae as a 'key destination for bulky goods'

3. Promote catalyst sites for commercial development to underpin William Street as the main street of activity
Direction 1.2 Enhancing transport and mode connectivity, including road, public transport, footpath and cycleway connections within Raymond Terrace and Heatherbrae
Actions
4. Identify 'missing road links' in Raymond Terrace and Heatherbrae

5. Finalise the construction and maintenance of the multi-transport hub at 'The Close'

6. Update and implement the Raymond Terrace Pedestrian & Cycle Strategy. Complete priority links and advocate for connections to the wider network, such as from Raymond Terrace to Newcastle and Maitland

7. Support future proposals for increased public transport from Port Stephens

8. Advocate for the southern interchange of the Heatherbrae Pacific Highway to provide northern access to Heatherbrae

9. Undertake a detailed traffic analysis/management plan to determine the future traffic environment of Heatherbrae and identify opportunities for improved accessibility to support additional lands for bulky goods premises

10. Address the informal access arrangements that have been created over 'community land', as defined under the Local Government Act 1993, for businesses with direct access to the Pacific Highway

11. Consolidate the identified portions of roads within Riverside Park and the Raymond Terrace Trotting Track into the adjoining Crown Land Reserves
Direction 1.3 Planning for regional soft infrastructure services to meet the needs of a growing community.
Actions
12. Advocate for Raymond Terrace amongst major institutions, such as the University of Newcastle, about the availability of affordable land and key catalyst sites both in Council and in private ownership.
13. Recognise the role in providing services to those smaller surrounding centres, such as Medowie, Dungog, Kings Hill and Salt Ash through providing a more detailed audit of community services.
Direction 1.4 Raising the profile of Raymond Terrace through a commercial strategy/prospectus.
Actions
14. Develop an economic/commercial strategy/prospectus that promotes land availability and its development potential
Goal 2
A city of housing choice with homes that meet our needs and lifestyles with a focus on providing for affordable accommodation, which includes seniors living and student accommodation
Direction 2.1 Enabling development that supports compatible land clustering 'like with like' land uses by the identification of key precincts, such as Kangaroo Street for Light Industrial, and Heatherbrae for bulky goods.
Actions
15. Investigate options to increase the maximum height of building from 9 to 15 metres at locations zoned R3 Medium Density Residential and from 12, 15 and 19 metres to 35 metres (10 storeys) at locations zoned B3 Commercial Core within the town centre to support opportunities for increased density.

16. Support the improvement of quality open space within Raymond Terrace and contribute to the target of 300 dwellings by implementing the Boomerang Park Masterplan.

17. Insert the standard instrument clause for activated street frontages into the Port Stephens Local Environmental Plan 2013 (NSW) and identify where development is to provide activated street frontages within the town centre to facilitate street activation.

18. The Department of Defence Administration Building is to provide a boardwalk/path along the Hunter River.

19. Identify a portion of land at the end of Speedy Lock Lane, Heatherbrae as a potential for greenfield development site.

20. Monitor the subdivision of lots within the town centre and facilitate discussions with developers for ways in which Council can assist in achieving density for those locations zoned R3 Medium Density Residential.

21. Facilitate and encourage shop-top housing within the town centre through ensuring the regulatory framework caters for this development type.

22. Review/Audit of future potential residential sites through the review of the Port Stephens Planning Strategy (PSPS).
Direction 2.2 Providing opportunities for affordable housing and seniors/retirement living.
Actions
23. Explore legislative and regulatory framework for further possible mechanisms to achieve small lot housing within the R3 Medium Density Residential zone.

24. Liaise with the University of Newcastle or private accommodation providers to promote Raymond Terrace as a location with affordable land, existing services and accessibility to the Lower Hunter Region.
Direction 2.3 Council facilitating the development of catalyst sites.
Actions
25. Ensure the commercial strategy/prospectus under Action No.14 incorporates these sites and places a detailed emphasis on their most suited use and potential.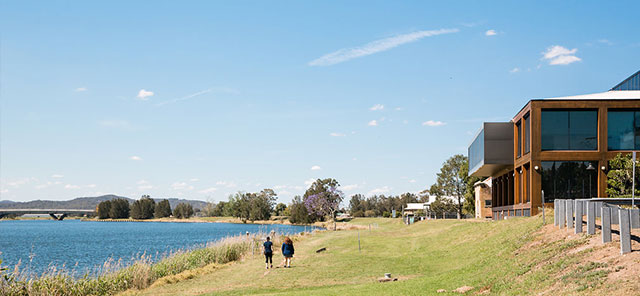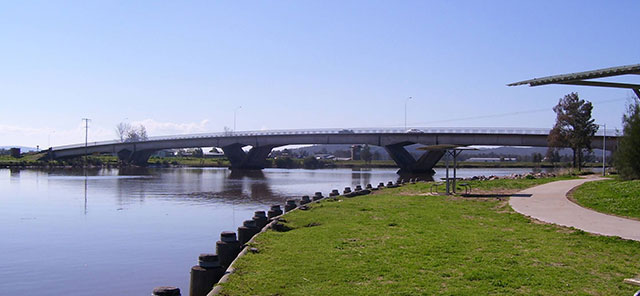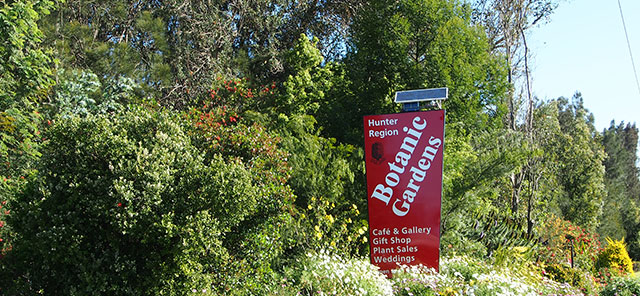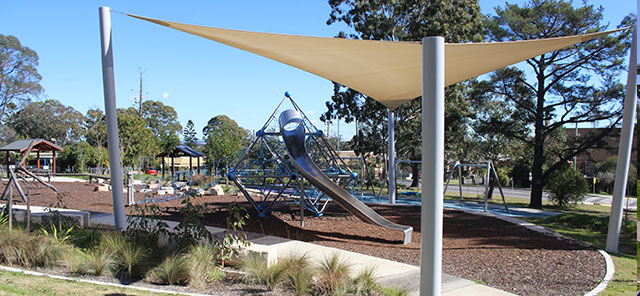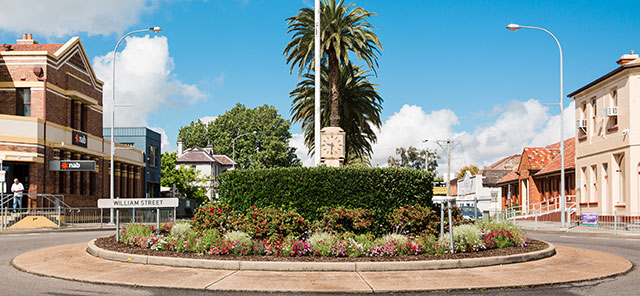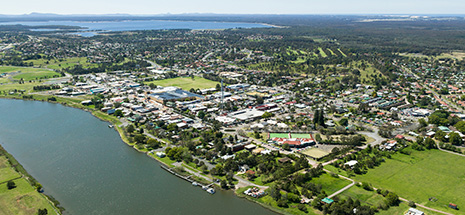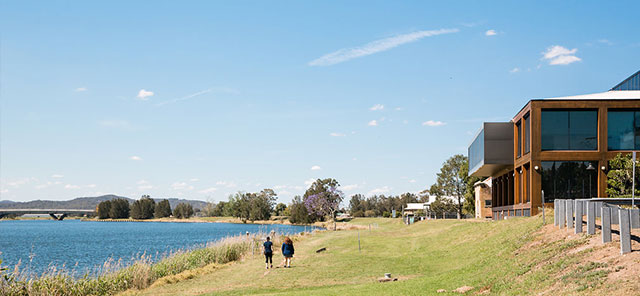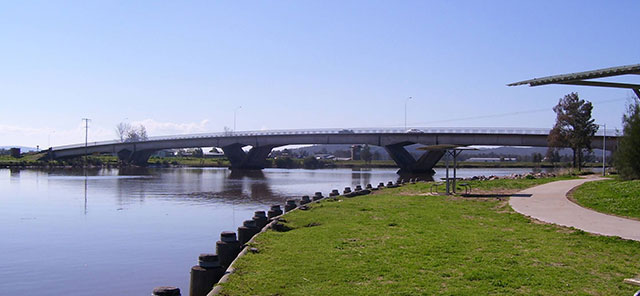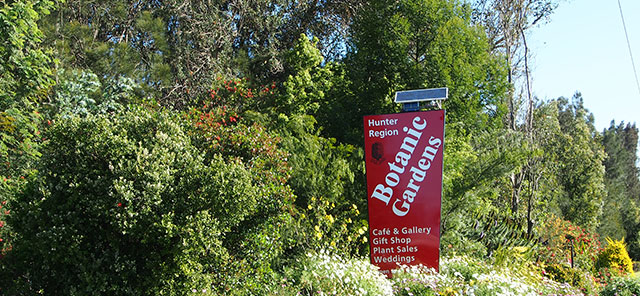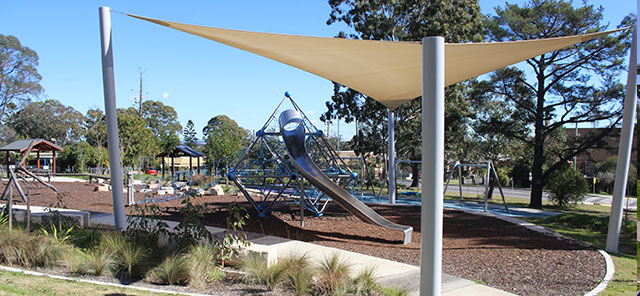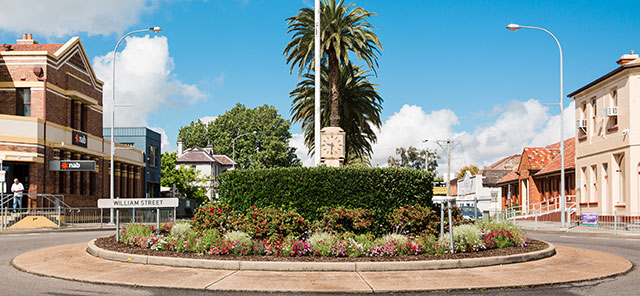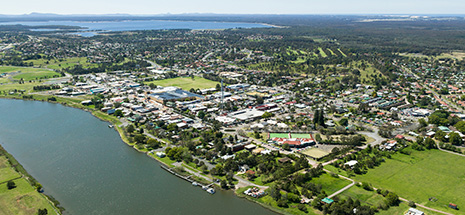 Goal 3
A great place to live with quality public and private spaces that are accessible
Direction 3.1 Improving the quality of existing public open spaces and undeveloped sites.
Actions
26. Implementation of the Boomerang Park Masterplan subject to securing appropriate funding, which includes quality paths, play equipment, etc.

27. Ensure the Streetscape Design Guideline takes into account urban design elements, such as what trees and/or vegetation would be most appropriate for open spaces

28. Explore the possibilities for the activation of undeveloped sites in Raymond Terrace Town Centre
Direction 3.2 Allocation and integrating locations for future passive open space.
Actions
29. Determine a preference for a location for passive open space in Raymond Terrace Town Centre

30. Prepare a project plan to redefine the civic present of Raymond Terrace
Direction 3.3 Implementing main street upgrades
Actions
31. Consider further detail on the three options for the upgrade of William Street once funding is identified.

32. Concept designs and costings will be developed for the upgrade of Adelaide and Port Stephens Streets

33. Develop a parking management plan for Raymond Terrace defining the goals for parking provision and incorporate a Parking Structure Plan with a hierarchy of users, links to policies and controls
Goal 4
A resilient city with clear directions for improved social, environmental and economic outcomes
Direction 4.1 Retaining connections to the past through the integration of heritage into development
Actions
34. Amend the Port Stephens Development Control Plan to provide additional guidance to heritage and incentives for the integration of historical significance into new development and the preferred location for gateway signage.
Direction 4.2 Development a streetscape design guideline for consistency in the town centre
Actions
35. Develop a streetscape design guideline to be used in the implementation of the William Street, Port Stephens Street and Adelaide Street upgrades.
Direction 4.3 Establishing an implementation panel to provide continual input
Actions
36. Formulate an implementation panel that meets formally on a regular basis to drive the implementation of the actions contained within this strategy.

37. Any future revision of this Strategy is to acknowledge the drainage matters identified by numerous flood and drainage studies completed for Raymond Terrace/Heatherbrae and provide a critical path towards addressing these matters.
Direction 4.4 Reinforcing the role of Raymond Terrace within the Local Government Area commercial hierarchy as the prominent commercial centre to service the future needs of Kings Hill and Medowie
Actions
38. The implementation panel is to engage and seek input from the sub-region, such as representatives from Newcastle Airport, Medowie, Kings Hill, Karuah, Dungog, Tomaree Peninsula and Tomago
Public Domain Plan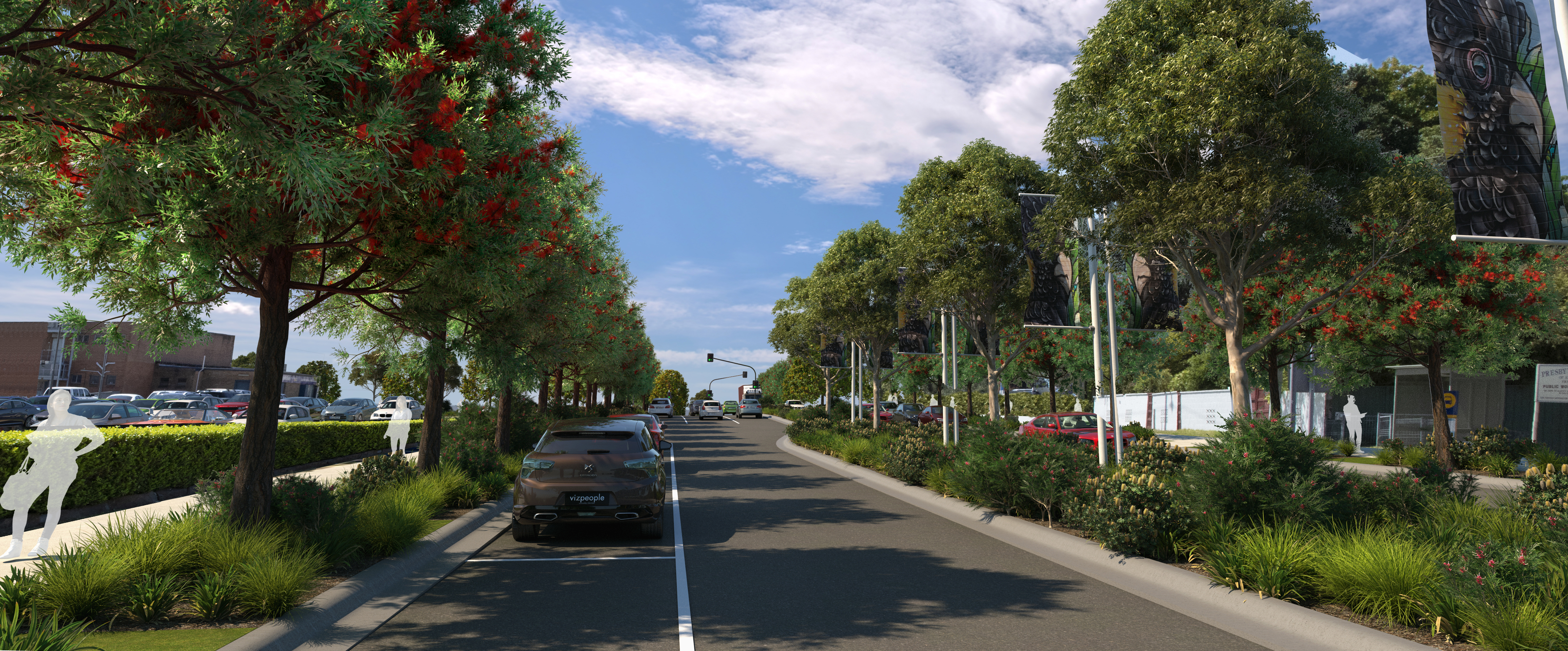 We have developed a Public Domain Plan (PDP) for the Raymond Terrace town centre. This vision for the town centre includes improvement works to William Street, along with other central areas in Raymond Terrace.
The PDP has been in part informed by community feedback and ideas collected through the community engagement project phase conducted from February to March 2020.
---
Raymond Terrace and Heatherbrae Implementation Panel
The Raymond Terrace and Heatherbrae Implementation Panel has been established to provide community advice to Council on the implementation of the Raymond Terrace and Heatherbrae Strategy 2015-2031.
The objectives of the Raymond Terrace and Heatherbrae Panel are:
to provide a forum to regularly report on progress and share information between Council and the community; and
to drive the implementation of the actions contained within the Strategy.
The Raymond Terrace and Heatherbrae Panel is made up of the following members:
Mayor Ryan Palmer
Councillor Giacomo Arnott
Councillor Ken Jordan
Councillor Paul Le Mottee
Kristine Brown – Community Representative (Business)
Jake Bush – Community Representative (Business)
David Davies – Community Representative (Resident)
Ken Buckingham – Community Representative (Resident)
Jeffrey Bretag – Community Representative (Resident)
Council staff from Strategic Planning, Economic Development and Assets units