Local Environmental Plan
The aim of the Port Stephens Local Environmental Plan 2013 (LEP) is to provide the statutory framework for planning within the Port Stephens local government area. It provides planning and environmental control over the use and development of land, in order to uphold and promote the objectives of the Environmental Planning and Assessment Act 1979 (EP&A Act).
The most recent version of the LEP is available on the NSW legislation website that is maintained by NSW Parliamentary Counsel.
Note: To understand the map types and map identification numbers, please see the Grid Map Index Sheet (PDF 1 MB)
Alternatively, our ePlan online tool can be used to access the LEP, Development Control Plan (DCP) and State Environmental Planning Policies (SEPPs) in one location.
Request to Amend the LEP
A legislative process is followed to request an amendment to the LEP in accordance with the EP&A Act. A request to amend the LEP is also known as a rezoning application or planning proposal. Requests to amend the LEP are to be consistent with strategic plans prepared by the NSW Government and Council including:
any other relevant legislative or planning policy documents.
Note: Requests to amend the LEP that are inconsistent with adopted strategic plans will require further detailed justification.
The process involves a number of steps outlined below.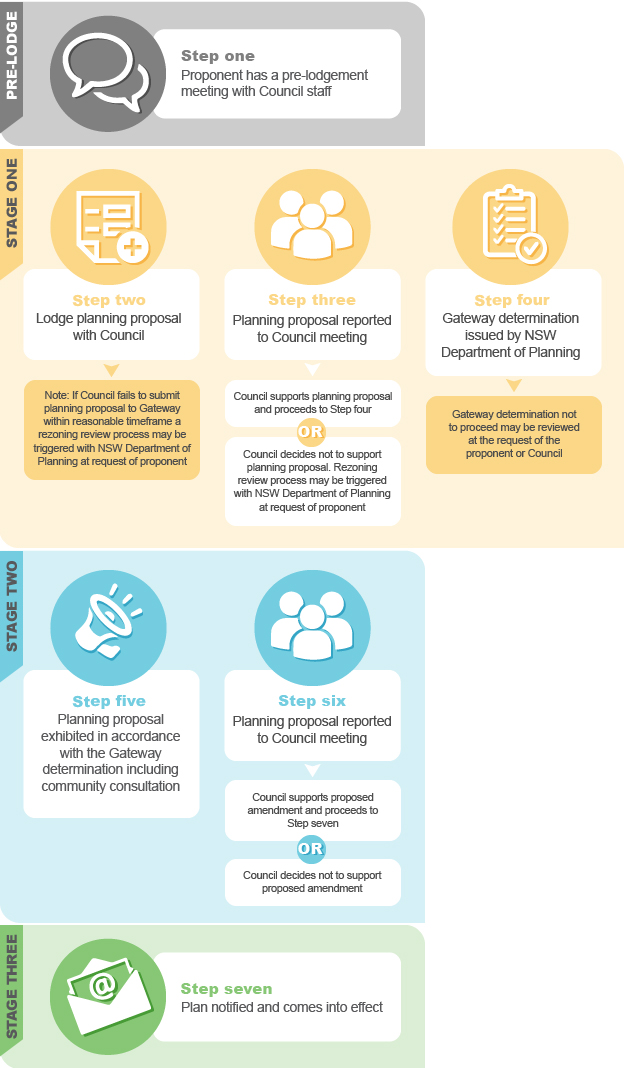 The LEP process is also used for the reclassification of Council owned land. For information relating to reclassification of Council owned land, please discuss with Council's Property Services Section in the first instance. Please refer to the Acquisition and Divestment of Land Policy on our Policies page.
What you'll need
Planning Proposal Tracking System
Council and the Department of Planning and Environment have electronic systems that allow users to track the progress of a planning proposal and view documents associated with its assessment.
Port Stephens Development Control Plan
The Port Stephens Development Control Plan 2014 (DCP) contains planning provisions, which provide further guidance to those provisions under the LEP. Both the LEP and DCP are key matters for consideration when Council is assessing development under s79C of the Environmental Planning and Assessment Act 1979. Read more about the Port Stephens Development Control Plan.
Previous LEP maps
The following LEP maps relate to certain sites having potential dwelling entitlements. Please note, some of these maps are large in file size and will take a little while to open.