The sharing economy: know the rules
Publish Date 11/01/2018
Australian state and territory governments are launching a national campaign to educate consumers and traders on their rights and responsibilities when using sharing economy platforms like Uber and Airbnb.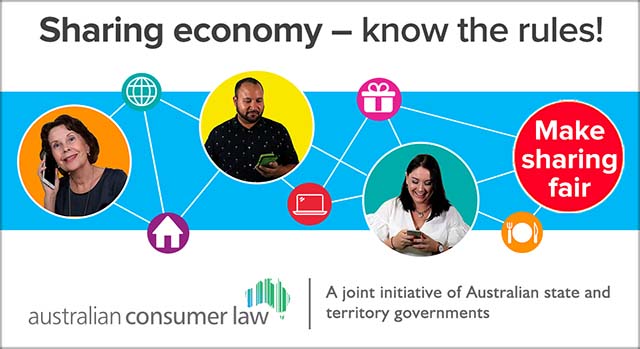 There's a good chance you've heard of platforms like Uber and Airbnb. These platforms and many others are part of the sharing economy.
While sharing economy platforms can provide a new and convenient experience for purchasing and hiring goods or services, questions around trader protection come with the new territory. If you hire or sell goods and services through an online marketplace or sharing economy platform, you must guarantee the services and goods provided comply with consumer law.
Consumers are entitled to:
truthful and accurate advertisements
the supply of goods and services with due care and skill
enough information to make an informed decision.
Some traders in the sharing economy may use reviews and ratings to attract customers. You could be engaging in misleading or deceptive conduct if you:
write a fake review
ask or pay someone to write a review
write a false review about a competitor
hide negative customer reviews.
With half the population in Australia using or thinking about using a sharing economy platform, it is important everyone plays their part to make sharing fair. As a trader in the sharing economy, it is important to remember that your standard rights and obligations still apply under Australian Consumer Law (ACL).
The ACL has put together a series of Sharing Economy videos with tips for traders and consumers operating in the sharing economy.
Further information on rights and obligations in the sharing economy is available on the Australian Consumer Law website.