Temporary closure for Cabbage Tree Road rehabilitation
Publish Date 27/09/2017
***UPDATE: Cabbage Tree Road is now open both directions under reduced speed limits - expect minimal delays under traffic control. Shoulder remediation is currently being completed, with line marking due to start mid-week (weather permitting). The road is scheduled to reopen to normal speed limits once these works are complete.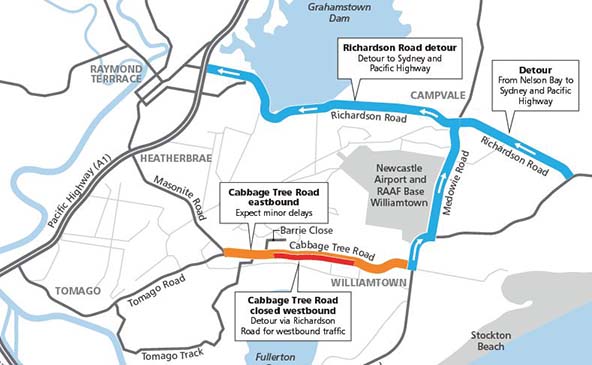 Rehabilitation works will see a section of Cabbage Tree Road, Williamtown closed to westbound traffic between Nelson Bay Road and Barrie Close from Monday 9 October to Friday 1 December 2017, weather permitting.
Eastbound traffic will still be able to use Cabbage Tree Road with reduced speed and minor delays, however westbound traffic will be detoured via Richardson Road toward Raymond Terrace, or via Nelson Bay Road toward Newcastle.
The rehabilitation work is being undertaken by Port Stephens Council on behalf of Roads and Maritime Services and will take approximately eight weeks.
Phil Miles, Council's Capital Works Section Manager, says the detour will reduce the duration and cost of the project for taxpayers and improve safety for all users.
"When traffic travels through roadwork, it causes damage to the road sub-surface, which must then be fixed before rehabilitation works can proceed," Mr Miles said.
"By putting a detour in place for westbound traffic, we can avoid this rework and thereby cut the overall project time.
"The detour will also provide a safer environment for our work crews by reducing the hazard of passing cars," he said.
Mr Miles says allowing eastbound traffic to continue using the road will mean minimal changes for airport traffic.
"The last thing people need on the way to the airport is roadworks, so we've been mindful to make sure that airport traffic will face minimal disruption," he said.
"We appreciate that Cabbage Tree Road is an important thoroughfare for commuters, visitors and locals, so we will be doing all we can to work closely with residents and businesses to manage the inconvenience for these users," he said.
View the RMS notification and map
*Please note amendment to RMS notification above: Cabbage Tree Road will be temporarily closed for westbound motorists between house numbers 383 to 577 while work is carried out.
For more information, contact Council's Capital Works Section Manager Phil Miles on 0437 841 592.