Surf's up! Port Stephens to host women's World Qualifying Series finale
Publish Date 02/11/2017
Port Stephens has secured one of the biggest women's surfing events in Australia, the World Qualifying Series finale, which is expected to boost the local economy by $910,000 over two years.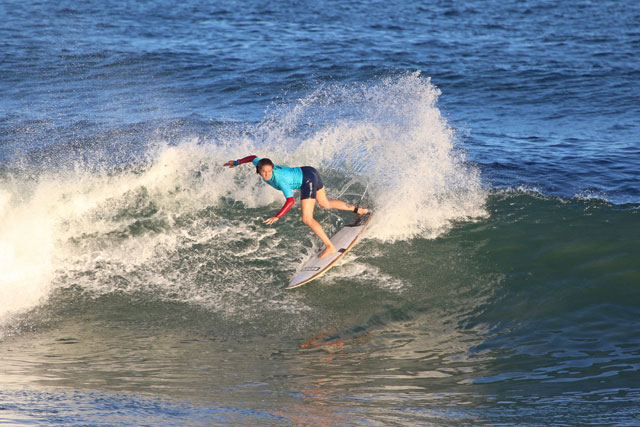 The Port Stephens Toyota NSW Pro will be held at Birubi Beach from 2-5 November and will be the last opportunity for competitors to make the cut for the 2018 elite Championship Tour.
Mayor of Port Stephens Ryan Palmer says he's beyond excited for Port Stephens Council to host the final event of the season and to welcome surfers and visitors from around the world.
"We all know that Port Stephens has world-class beaches, but this is an amazing opportunity to showcase our natural assets to a global audience," Mayor Palmer said.
"It's also a rare opportunity for our local surfers to compete in home waters and test their ability against the best in the world.
"Hosting a major surfing competition like the women's World Qualifying Series is a great endorsement of Port Stephens from the World Surf League and Surfing NSW, and we look forward to working together to make this competition a success," he added.
Port Stephens Council's Tourism and Events Coordinator Janelle Gardner says the competition will be great for local businesses, hotels, restaurants and tourism operators.
"This event is going to be huge! We're expecting more than 1,000 surfers and visitors to converge on Port Stephens, injecting $910,000 into the local economy over the next two years," Ms Gardner said.
"We're extremely excited to promote Port Stephens, our beautiful beaches, National Parks and the amazing Worimi Conservation Lands to surfers and surfing fans from around the world," she added.
The 2017 Port Stephens Toyota Pro will run from 2 to 5 November, including the women's QS6000, Men's QS1000 and a junior competition. For more information about the event, visit www.worldsurfleague.com.
Things to know on the day:
There are no road closures – only restricted access to James Peterson Street.
Commercial Operators will continue to operate as normal.
Public car parking for spectators will be available in the Robinson Reserve car park and surrounding streets close by to the event site. 'No Stopping' zones along Fitzroy Street, Campbell Avenue and Pacific Avenue will be in place.
Overflow public car parking will be available at Tomaree Sports Complex with park and ride options available on Saturday and Sunday event days only.
Buses will be running from Tomaree Sports Complex and dropping off at Fitzroy Street (Robinson Reserve).

Three buses will run per day (Saturday 4 November and Sunday 5 November only) at: 10am, 1pm and 4pm. Buses will return from Robinson Reserve to Tomaree Sports Complex. at: 10.45am, 1.45pm and 4.45pm.

If weather conditions are not suitable, the event will be moved to One Mile Beach.
For event times and further information, visit:
Women's: http://www.worldsurfleague.com/events/2017/wqs/1968/port-stephens-toyota-nsw-pro
Men's: http://www.worldsurfleague.com/events/2017/mqs/2589/port-stephens-toyota-nsw-pro