Story Tellers Festival to weave tales in Raymond Terrace
Publish Date 11/10/2018
Writers, poets, artists, filmmakers and photographers will share their skills and showcase their work as part of the new Story Tellers Festival in Raymond Terrace from 24-28 October 2018.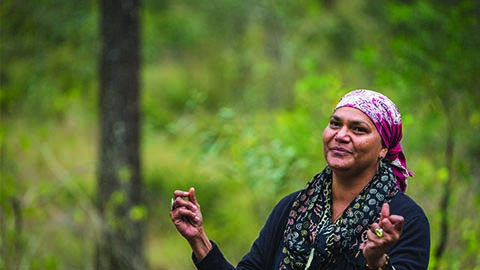 Proudly supported by Port Stephens Council's Cultural Projects fund, the festival incorporates a number of events including the Real Film Festival, a photography exhibition, workshops, open mic poetry and much more.
Port Stephens Mayor Ryan Palmer says it's exciting to have a new festival in town.
"It's fantastic that Port Stephens now has its own Story Tellers Festival, where local creatives can come together and share their craft.
"Storytelling is all about sharing who we are both individually and as a community, so it's really important to have an opportunity to do that right here in Raymond Terrace.
"Port Stephens Council is proud to support this event through our Cultural Projects fund, which is used to promote arts and culture in our community. I'd encourage everyone to come along to one or all of the events and get involved!" Mayor Palmer said.
Story Tellers Festival organiser Michelle Wright says it's a wonderful opportunity for locals to share their own stories and learn from leaders in the field.
"This is an opportunity for the creative community of Port Stephens to come together and showcase the stories we have collectively amassed, as well as learn new skills and make connections for future projects," Ms Wright said.
One of the highlights is the Real Film Festival, which is holding an inaugural screening in Port Stephens on Saturday 27 October.
Real Film Festival director Annette Hubber says five films which have been directed or produced by locals, or feature local actors, will be screened on the night.
"The Real Film Festival was created to foster and develop the art of storytelling real events through film. Our focus is on films portraying diverse cultural stories that will make you think, cry and laugh, but ultimately inspire change," Ms Hubber said.
"We select a range of films that celebrate real people, real places and real stories, and we are very excited that this year we are doing this in Port Stephens!" she added.
The screening's main feature is Angels Gather Here by renowned local filmmaker Ian Hamilton, with short films on Aunty Margo, The Burning Mountain, Beyond the Red Zone and I Walk, I Run, I Drum to follow. A Q&A session with filmmakers and leading actors will follow the screening.
The Story Tellers Festival will be held in Raymond Terrace and includes:
Wednesday 24 October
Poetry and Comedy at the Pub – 6-8pm at Lakeside Tavern courtyard.
Thursday 25 October
Photography exhibition by Jaqueline Tucker, Raymond Terrace Library.
Friday 26 October
Youth Story Night at the Senior Citizens Hall, Boomerang Park.
Saturday 27 October
Story Tellers Market including workshops on cartooning, song writing, poetry and short stories from 10am-3pm at the Old Rectory, Jacaranda Street.
Real Film Festival special screening of 5 local films from 5pm at Scotty's Cinema, corner Adelaide and Bourke Street.
For more information about the Story Tellers Festival, please contact Michelle Wright or Adam Nicholas on 0432 187 010, at storytellersrtnsw@outlook.com or visit facebook.com/StoryTellersRTNSW/
For more information about the Real Film Festival, please contact Annette Hubber on 0423 020 191 or visit realfilmfestival.com.au