Port Stephens lifeguards ready for busy beach season
Publish Date 27/09/2019
This weekend marks the start of the busy beach season for Port Stephens Council, the Australian Lifeguard Service and local Surf Life Saving Clubs.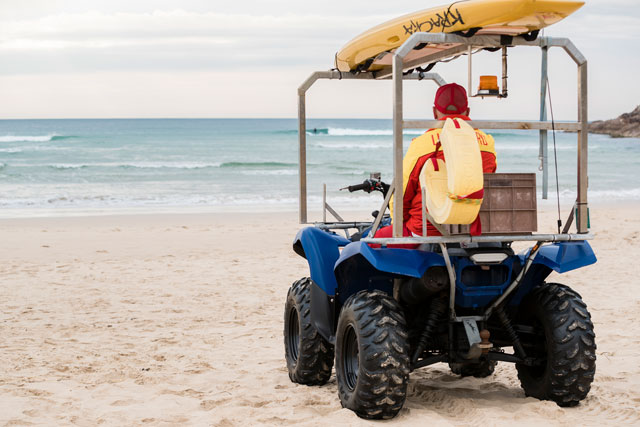 Port Stephens beaches are quickly growing in popularity, with the number of visitors to Birubi Beach, One Mile Beach and Fingal Beach growing by almost 24% in the past year to 765,000.
Lifeguards at One Mile will begin their patrols this Saturday 28 September, while lifeguards at Birubi and Fingal beaches begin Monday 30 September.
Volunteer lifesavers will patrol both Fingal and Birubi beaches on weekends and public holidays.
Following on from a successful season last year, the NSW Department of Primary Industries will continue its drone trial at Birubi Beach to improve safety for beach users and gather data and footage on shark behaviours.
Council's Contracts and Services Coordinator Ian Crawford says both professional lifeguards and volunteer lifesavers play an important role over the warmer months.
"Port Stephens is known for its beautiful beaches, so it's no surprise that the number of visitors reached almost 765,000 at Birubi, One Mile and Fingal beaches. That's a 50% increase in just two years — from just over 507,000 in the 2016 to 2017 season.
"Last year, our lifeguards made 50 rescues, gave 239 first aid treatments and took more than 100,000 preventative actions to keep beach goers safe.
"Our lifeguards and volunteer Surf Life Saving Clubs do an incredible job to keep us all safe at the beach," Mr Crawford said.
Port Stephens Lifeguard Supervisor Phil Rock says beach safety is simple.
"Our safety message is simple — always swim at a patrolled location, always stay between the red and yellow flags, and never swim alone," Mr Rock said.
"Make sure you follow the directions of lifeguards or lifesavers and if you're ever unsure of ocean conditions, just ask us for advice — that's what we're here for!"