Port Stephens Council takes first place at Statewide Risk Management awards
Publish Date 04/09/2018
Port Stephens Council's innovative approach to risk management has been recognised at the prestigious Statewide Risk Management Excellence Awards.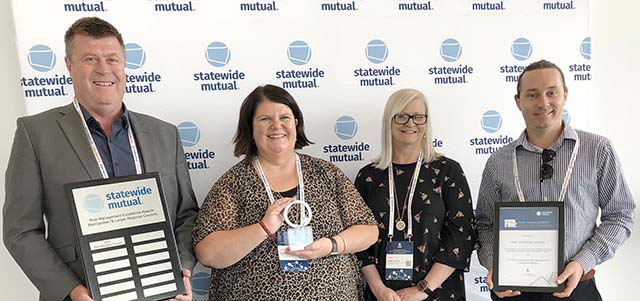 Port Stephens Council was named the overall winner in the Large Regional Councils/Metropolitan Councils division for best strategic/enterprise risk management initiative for its Integrated Risk Management System.
Michelle Gilliver-Smith, Council's Organisation Development Section Manager, says the award cements Port Stephens as a leader in the risk management field.
"Port Stephens Council truly is leading the way when it comes to risk management, and this award reaffirms all that we are trying to achieve.
"Over the past year, we have developed an Integrated Risk Management System which combines all of our processes, methodology, appetite and reporting into one easy and efficient tool. This system is a 'one stop shop' for managing risk to our employees, our environment and our organisation.
"Best of all, our entire community is reaping the benefits. As a result of Council's innovative approach to risk, we've been able to reduce our premiums and save our ratepayers thousands of dollars each year.
"Risk management isn't set and forget – it's everyone's responsibility. This award is testament to the great work that Council staff continue to do in the improvement of risk management across our entire organisation," she said.
The Statewide Risk Management Excellence Awards were held in Sydney on Thursday 30 August 2018.