October school holiday activities 2018
Publish Date 26/09/2018
Here in Port Stephens there are a great range of activities for children of all ages during the school holidays Monday 1 October until Sunday 14 October 2018.
Vacation Care
Are you looking for Vacation care in October 2018? Vacation Care provides programmed activities, learning experiences and excursions for school age children from 4 -13yrs. Find out more about Vacation Care.
View the Port Stephens Children Services programs for Medowie and Raymond Terrace below:
Contact our Children's Services Administration Office on (02) 4988 0308 or childcare@portstephens.nsw.gov.au for more information and to request enrolment forms.
---
Library School Holiday Program
We are pleased to announce our October 2018 school holiday program. Bookings are essential for all activities as places are limited. You can contact the library or follow the links below for more information.
| Date | Venue | Activity | Time | Age | Cost |
| --- | --- | --- | --- | --- | --- |
| Wed 3 October | Raymond Terrace | Slimetastic | 2.00-3.00pm | 6-10 | $5.00 |
| Thu 4 October | Tomaree Library | | 2.00-3.30pm | All | Free |
| Fri 5 October | Tomaree Library | | 10.30-11.30am | 6-9 | $10.00 |
| Fri 5 October | Raymond Terrace | Family Movie - Paper Planes | 2.00-3.30pm | All | Free |
| Fri 5 October | Tomaree Library | | 2.00-3.00pm | 10+ | $10.00 |
| Tue 9 October | Raymond Terrace | All Aboard Games Day | 10.00am-5.00pm | All | Free |
| Tue 9 October | Tomaree Library | | 2.00-3.00pm | 8-12 | Free |
| Thu 11 October | Tomaree Library | Yoga for Kids | 1.00-2.00pm | 5-15 | $5.00 |
| Fri 12 October | Raymond Terrace | Raspberry Whoo-'Pi' Cushion Project | 10.30-11.30am | 8-12 | $5.00 |
Raymond Terrace Library - Art Space exhibition
Jacquie Tucker - Photography Exhibition
28 September - 2 November
A photography exhibition covering three series' of work spanning 2017-2018. Kerb Appeal is an exploration of the mundane and the sculptural beauty in discarded things. Black Velvet and Silk are the result of experimentation with light and movement.
Find out more about Art Space exhibitions.
---
What's on in Port Stephens
Check out everything that's happening around the Port Stephens area. We've got information on community, cultural and Council events. View the Council and Community events calendar.
If you are looking for walking trails, or things to do visit the Port Stephens Tourism website.
---
What's on at Robinson Reserve
Enjoy these exciting activities at Robinson Reserve located on the corner of Robinson and Fitzroy Streets Anna Bay.
Date

Activity

Time

Age

Cost

Thu 4 October
The STEAM Shack
A fun and interactive education experience featuring robotics, drones, VR and more!
10am to 1pm
All
Free
Fri 5 October
Sydney Sixers Big Beach Blast
The action packed morning will include cricket coaching, visits from Sydney Sixer and also a chance to learn basic water safety
8 to 11:30am
5-12
$12.50
Mon 8 October
Spring Coastal Activities - Dune and Coastal Walk
Explore the coastline around Robinson Reserve and learn about the amazing environment at Anna Bay
10am to 12pm
All
Free
Thu 11 October
The STEAM Shack
A fun and interactive education experience featuring robotics, drones, VR and more!
10am to 1pm
All
Free
---
Visitor Centre
Port Stephens Visitor Information Centre friendly staff will help you make the most of your stay in Port Stephens.
Find out more about where to stay, events that are on and what to do while in Port Stephens.
---
Skate parks
Help burn off some of the kids energy on their skateboards, scooters and BMX.
Council has seven skate parks that cater for beginners to skilled riders. All skill levels are equally entitled to use the ramps, however skate parks are not an appropriate place for toddlers using mini-bikes or toy riders.
---
Share Our Space Program
Schools are the heart of our communities and offer a range of quality recreational and play facilities.
Over the coming school holidays, the NSW Department of Education is rolling out a program at 167 schools across the state which will open up the playgrounds, ovals and sports fields for the whole community to enjoy.
| School Holidays | Dates | Time |
| --- | --- | --- |
| Spring | 1 Oct - 12 Oct 2018 | 8am - 5pm |
| Summer | 24 Dec 2018 - 25 Jan 2018 | 8am - 6pm |
To find out which schools in Port Stephens are involved, please visit the schoolinfrastructure.nsw.gov.au or contact them on 1300 679 332.
---
Aquatic Centres
Have fun on the water, there's something for everyone at one of the Port Stephens aquatic centres. Remember swimming is a year-round activity. Our swimming pools are top quality in the state, ranking high safety scores in NSW.
Did you know there are free swimming lessons available? Learn2swim week 2-9 October 2018 is a great opportunity to teach children how to swim and educate them about water safety. Invite your friends to join you at Learn2Swim Week.
Tomaree Aquatic Centre

Fast track holiday intensive swim lessons over the holidays
Our water slide will be open from 12pm until 3pm, each day

Tilligerry Aquatic Centre
Lakeside Aquatic Centre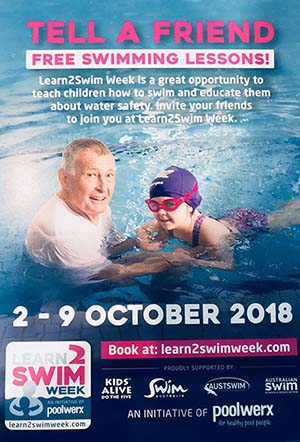 ---
Commercial operators
There are a range of licensed commercial operators in Port Stephens providing fantastic services on local beaches, playing fields and reserves. These operators include:
Find out more about the commercial operators in Port Stephens.
---
Parks & reserves
Port Stephens is home to numerous and picturesque reserves and parks ready for you to explore. There are numerous playgrounds, public amenities, open spaces and picnic facilities across the region making the area a perfect place to live or visit.
Find out more about our popular parks and reserves.
---
Beaches and foreshores
Port Stephens has a variety of beautiful beaches, foreshores and reserves on offer with large patrolled beaches ideally suited for surfing and small enclosed beaches perfect for a family picnic or get together.
Port Stephens Council contracts professional lifeguards from Surf Life Saving Services NSW to provide weekly patrols for Birubi Beach and Fingal Beaches with a 7 day per week patrol (including public holidays) at One Mile Beach.
---
Go cycling
Take the kids out on their bikes along one of the cycling tracks in Port Stephens. Port Stephens has designated cycleways that provide safe cycling around the peninsula, taking you from Salamander Bay right through to Fingal Bay with some spectacular waterviews as you pass from Bagnalls Beach to Dutchies Beach to Nelson Bay. There's some shaded riding through bush and reserves from Shoal Bay to Fingal Bay and plenty of parks, playgrounds and cafes along the way.
Find out more about the long and shared cycleways in Port Stephens.
---
Dog parks
Take the dog out for a walk. Port Stephens has numerous parks and reserves where dogs may be exercised off-lead.
Find out where you may exercise your dogs on/off leash and the dog prohibited areas.
---
Slow Down. Kids Around!
Parents and caregivers play an important part in teaching their children about road safety. Children learn largely by experience, and as parents and carers we have regular, daily opportunities to discuss road safety with our children while on the way to the shops, park, beach or school.
When crossing the road, talk about where and when it is safe to cross the road…….and why!
When walking near roads, footpaths, driveways and car parks
Hold your child's hand until they are at least 8 years old
Ensure they hold onto a pram, stroller, bag, trolley or your clothing if you cannot hold their hand
Closely supervise (within arms reach) up to at least the age of 10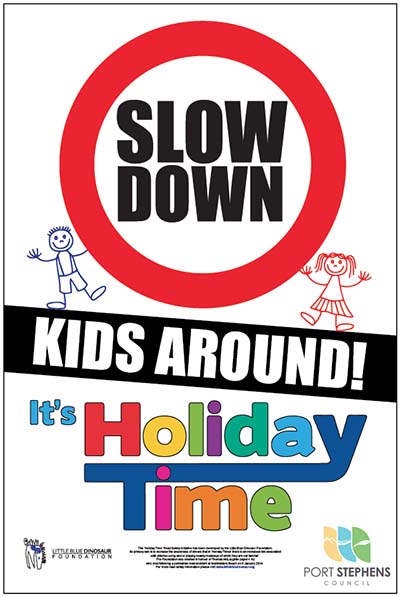 And for the motorists out there, please slow down when children are around.