New accessible fitness hub for Boomerang Park
Publish Date 10/08/2017
Residents of Raymond Terrace have a new place to exercise outdoors with the opening of a fitness hub in Boomerang Park.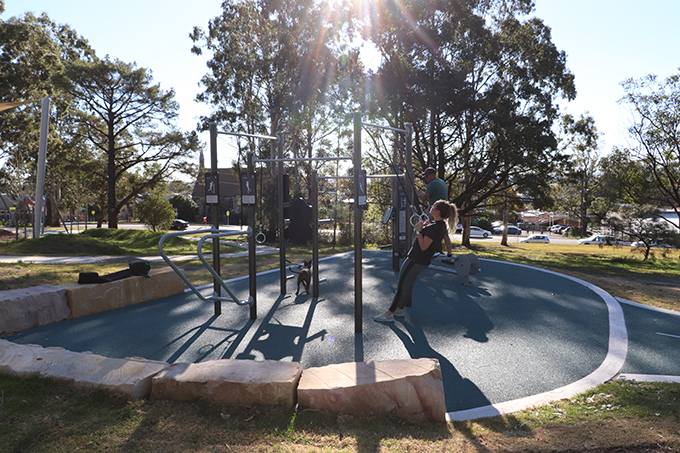 The fitness hub is located near the corner of Irrawang and Williams streets, next to the new children's play equipment.
Brock Lamont, Council's Community and Recreation Coordinator, says the fitness hub is free to use and caters for everyone, whatever their physical ability.
"There's an elliptical trainer, a sit up bench, pull up bars, roman rings, a dexterity builder and a 25 metre running track, so there's definitely something for every fitness level," Mr Lamont said.
"The equipment has also been designed with accessibility in mind, particularly with the inclusion of the pull up bars and roman rings at different heights for wheelchair users, as well as the dexterity builder for people with limited mobility," he said.
Mr Lamont said the fitness hub will allow families to get outdoors and exercise together.
"The fitness hub is located right next to the play equipment, meaning parents can do their own exercise while still keeping an eye on their children playing.
"It also won't cost users a cent, making it a truly inclusive project. It's a great alternative for people who can't afford to work out at a gym, or who prefer to do their exercise in the sunshine.
"Providing free gym equipment for residents and visitors is one way that Council can promote the importance of a healthy lifestyle," Mr Lamont said.
The fitness hub is just one part of the master plan for Boomerang Park, with construction of a skate park to start soon, an accessible children's carousel in the works and footpaths throughout the park to come.