International Women's Day scholarships awarded to three outstanding Port women
Publish Date 06/03/2019
A magazine publisher, a sporting star and a teen who is passionate about helping kids to eat healthily are the recipients of this year's International Women's Day Scholarships from Port Stephens Council.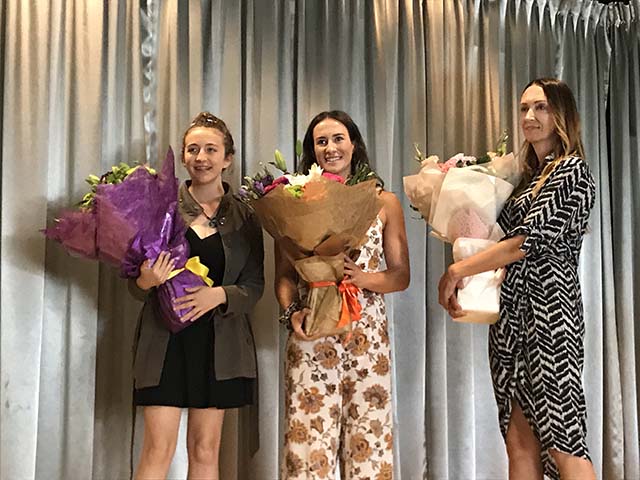 Saffron Quantrell, Maya Stewart and Emily Healy have each been awarded a $1000 scholarship at the Rotary Club of Salamander Bay's International Women's Day luncheon.
The scholarships are designed to support local women and the valuable contribution they make to our community across a range of fields — arts, culture, environment, business, community, health and sport.
Deputy Mayor Sarah Smith says this is the second year Port Stephens Council has offered the scholarships.
"International Women's Day is a time to celebrate women who are achieving great things as individuals and our community.
"This year's theme is Balance for Better — raising awareness against bias, taking action for equality and celebrating women's achievement," she said.
"These scholarships are a small way that Port Stephens Council is helping to create opportunities for local women.
"Saffron Quantrell of Anna Bay is raising up local women by sharing inspiring stories in her free family magazine. She will be publishing an annual magazine called 'Real women of Port Stephens'.
"Maya Stewart of Nelson Bay is a role model for aspiring sports stars. She is currently playing for the NSW Waratah Women's super W team and has represented Australia at an international level.
"Emily Healy of Medowie is just 16 years old and has started a business to teach children and young people how to cook whole foods free from additives and preservatives.
"I want to congratulate our winners and everyone who applied — there are so many deserving women in our community who are doing fantastic things. I'm excited to see how our winners will use their scholarships to achieve their goals," she added.
Details of recipients:
Saffron Quantrell
Saffron is 47 years old from Anna Bay. She has published a free family magazine for the past eight years and will be publishing an annual manual called 'Real women of Port Stephens'.
The magazine will feature inspiring stories from a diverse selection of local women from all walks of life. It will also promote health and wellness, culture, connectivity and give a voice to local business. Saffron has also started an online Facebook support group for women with almost 1300 members. Women are using the group to connect, make friends, have fun and support one another.
Maya Stewart
Maya is 18 years old from Nelson Bay. She has represented Nelson Bay at a National and International level. Being an avid sporting participant she commenced playing rugby union.
She represented Australia at the world school 7s, winning the tournament. This led to her being named in the dream team and is currently playing for NSW Waratah Women's super W team as well as participating in Aussie 7s training. Maya enjoys being a role model for younger girls, that dreams are achievable.
Emily Healy
Emily is 16 years old from Medowie. She has volunteered for the last two years for a children's program that has a large focus on emotional and social well-being. She has always been interested in promoting health and well-being for children. She has started a business to provide educational material and hands-on workshops for children and young people. They would learn how to cook whole foods free from additives and preservatives and equip them with life skills which will help stop the unhealthy food cycle in our community.
For more information visit http://www.portstephens.nsw.gov.au/live/community/grants-and-scholarships/international-womens-day-scholarship.