HRF Economic Breakfast talks Youth Employment
Publish Date 10/08/2017
The Hunter Research Foundation (HRF) Centre's Hunter Economic Breakfast, held on 4 August, focused on youth employment and its impact on the path ahead for the Hunter.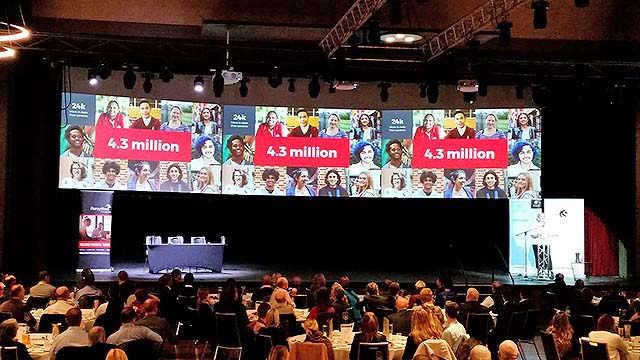 Key speakers Maggie Hill from the Foundation for Young Australians and Dr Anthea Bill from the HRF Centre presented on this important issue. An expert panel, comprising Maggie Hill, April Carlin from the Department of Employment, and Geoff Crews, Director of Forsythes Recruitment, responded to questions on their experience of youth employment issues in the Hunter.
Dr Anthea Bill told the audience that the rate of unemployment for the Hunter region's young people (15-24 year olds) had fallen to 10.8% in June (3-month moving average), and had virtually halved from its peak of 19.4% in November 2014. The Hunter rate had fallen at a faster rate than the State or the nation.
However, Dr Bill reported that underemployment rates for Australia's young people hit a record high, an area she said the HRF Centre would be watching in the next quarter. Underemployment occurs when an individual is not working as many hours as desired. Typically, it represents lost opportunities for people to engage more fully in work and derive financial and personal benefits.
Jane Perrin, Council's Economic Development Coordinator said: "Youth employment is the key to a sustainable economy. From an economic perspective full-time employed young people contribute to an economy through consumption on goods and services, and expenditure on rent and housing. Young people attract young networks to the area, an important consideration when the population is ageing nationally."
The Foundation for Young Australians advocates on behalf of young Australians, attempting to address the challenges that 15 – 24 years old face in accessing full-time employment.
Maggie Hill's presentation delved into what future 'jobs' will look like and tackled the question of what skills young people will need to succeed in a rapidly changing world of work.
She presented some results for the FYA's New Work Order research series, which highlighted the changing environment of the workplace. A study of 2.7 million job advertisements showed that over the past three years there has been a 212% increase in jobs advertised requiring digital literacy, a 158% increase in jobs requiring critical thinking, and a 181% increase in jobs requiring bilingual skills (which can be attributed to globalisation).
Young people need to be formally taught enterprise skills in order to navigate an expected 17 different jobs across 5 different careers. The following factors will be important for a young person seeking employment:
A suite of enterprise skills will be required as opposed to having one specific skill
There will be an increase in jobs focusing on people, problem solving and creative thinking
There will be a reduction in the need for workers to complete routine and manual tasks as automation increases
30% more time will be spent learning 'on the job'
Skills will be required to manage your own time more effectively, as time spent in managing others declines.
Jane Perrin said:, "The young people of today will be the business leaders and innovators of the future. Educators, business, government and the community play a role in ensuring our young people are equipped to meet the challenges and opportunities that arise from a changing work environment".
For further details on HRF Centre's Economic Breakfast and to access the full presentations from guest speakers visit.
Port Stephens Council is a corporate sponsor of the Hunter Research Foundation Centre, profiling Port Stephens through the breakfast series, and networking with business leaders, educators and industry representatives from across the Hunter.