Historic agreement marks start of NAIDOC Week in Port Stephens
Publish Date 11/07/2018
Port Stephens Council, together with Karuah and Worimi Local Aboriginal Land Councils, has kicked off NAIDOC Week celebrations with the signing of an historic agreement.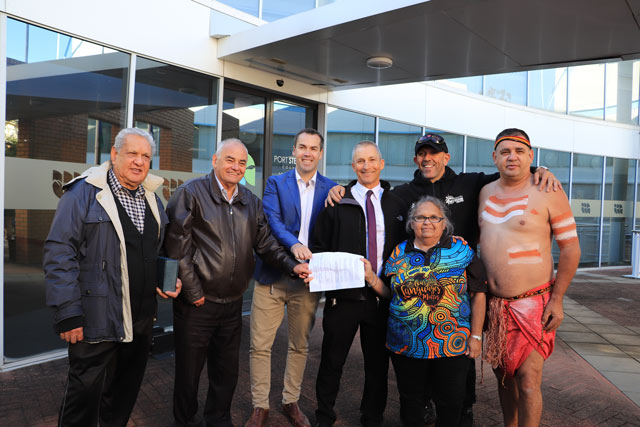 The Road to Tomorrow Agreement, or Yabang-Gu-Butunga Agreement in the Worimi language of Gatung, is a first for the region, and sets out the shared objectives and projects that have been identified as priorities for Port Stephens.
Speaking at the NAIDOC Week flag raising ceremony, Port Stephens Mayor Ryan Palmer said the agreement has been many years in the making.
"This agreement is a roadmap of how we will work together to improve the lives of Aboriginal people living in our region both now and into the future – not just through talking, but through achieving outcomes.
"This has been in the works for a number of years, even before my time on Council, so I'm proud to be here to sign this agreement with both land councils.
"I'm also proud of the relationships that we have, and I'm looking forward to working together through our Aboriginal Strategic Committee to strengthen these relationships and achieve great things together," he said.
The Agreement was signed by Council's Mayor Ryan Palmer and General Manager Wayne Wallis, Worimi Local Aboriginal Land Council's CEO Andrew Smith and Chair Leigh Ridgeway, and Karuah Local Aboriginal Land Council's CEO Len Roberts and Chair Fiona Manton.
Read the Agreement, or for more information on NAIDOC Week events, visit the Event Calendar.