Free 2018 Legal Topics for Older People Diary
Publish Date 09/02/2018
Get organised and informed in 2018!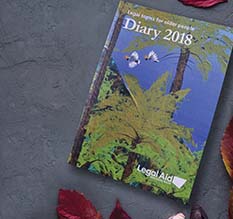 The free 2018 Legal Topics for Older People Diary is packed with practical tips to help seniors.
From retirement villages to making sure pets are taken care of, this diary explains a range of legal issues and includes handy contacts for further help.
This year, there is a dedicated chapter on legal issues that are important for older Aboriginal people, including planning for funerals and using a will as a way of passing on cultural knowledge.
Free seniors diaries are available at Council's Administration Building at 116 Adelaide Street (old Pacific Highway) Raymond Terrace while stocks last. Office Hours: 8:30am to 5:00pm Monday to Friday.