Flying-fox management a joint effort
Publish Date 06/03/2017
Port Stephens Council is calling on residents to help develop a management plan for the flying-fox camp located on both sides of Adelaide Street in Ross Wallbridge Reserve and Newbury Park in Raymond Terrace.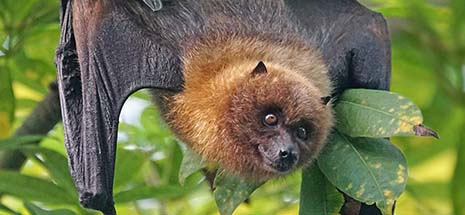 Grey-headed Flying-fox colonies are protected under federal and state government legislation due to their wider ecological importance.
Council's Natural Resources Coordinator, Les Seddon, says Port Stephens Council is joining with other councils under the guidance of Hunter Councils and Office of Environment and Heritage (OEH) to develop a management plan for the Raymond Terrace camp.
"We want to work with people affected by the impact of flying-foxes, as well as educate the public about the important role these animals play in maintaining the natural environment around the Hunter", he said.
"The Grey-headed Flying-fox provides important ecological services, pollinating and spreading seed of native flora, including endangered plant species and communities".
Mr Seddon also explained that local residents noticed an unprecedented number of Flying-foxes at the Raymond Terrace Flying-fox camp in the summer of 2015/2016.
"The number of animals increased dramatically due to a dry season in the west of the state combined with unseasonal native trees flowering. This happened across the Hunter and down the east coast of NSW".
Port Stephens Council is calling on the local community to fill in a survey which will inform the management plan.
"This survey has been specifically designed so we can accurately capture community values and balance the very real needs of local residents with protecting this unique and critical species", Mr Seddon said.
Council will continue engaging with residents and known community spokespeople to help spread the word about the survey and the development of the management plan for the flying-fox camp in Raymond Terrace.
The survey is open until the 31 March at portstephens.nsw.gov.au/flyingfoxes
Residents can complete the survey and talk to Council staff on Alton Road from 3pm to 5pm Wednesday 15 March 2017. Another listening post will be outside Centro Shopping Centre from 3pm to 5pm Friday 17 March 2017.
Residents are encouraged to contact Council's Natural Resource Coordinator Les Seddon on 4980 0351 for more information.