Everyone's business: Inclusive tourism
Publish Date 07/03/2018
Local Government NSW (LGNSW) commissioned the Institute for Public Policy and Governance at the University of Technology Sydney to explore the potential economic opportunities of the Inclusive Tourism market and how to best unlock these for businesses.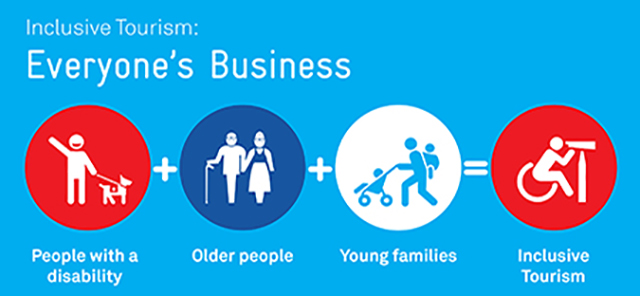 Inclusive tourism refers to tourism services and products where people of all abilities feel welcome and wanted as customers and guests. In particular, it focuses on the process of enabling people with disability and groups with similar access needs to better use tourism services.
There are approximately 4.2 million Australians with a disability, which accounts for almost 20 per cent of Australia's population, and around 1 billion people with a disability worldwide, or 15 per cent of the world's population. If businesses and tourism operators take steps to improve their services to the Inclusive Tourism market they will create new opportunities for growth.
Local Government has developed new tools and resources to help businesses understand and become a provider to the Inclusive Tourism market. The online portal of tools and resources available include video & infographic content, an online awareness course, case studies and contacts for useful organisations and support consultants at LGNSW.
The free online awareness course provides ideas and examples on making improvements to build accessible spaces for all residents and visitors and is a great starting point for operators to better understand what is possible.
To begin the course visit: http://www.lgnsw.org.au/inclusivetourism
For further information and support contact the LGNSW Social Policy Team on: inclusive.tourism@lgnsw.org.au