Events by youth for Youth Week
Publish Date 05/04/2018
Young people will be leading the way for this year's NSW Youth Week celebrations, with free events across Port Stephens with the support of Council and its Youth Advisory Panel.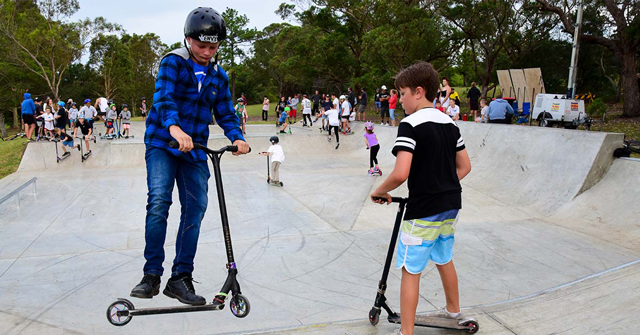 The annual state-wide celebration for young people aged 12-25 kicks off Friday 13 April and runs until Sunday 22 April 2018, with lots of creative, fun and inclusive activities in Raymond Terrace, Tanilba Bay, Nelson Bay and Medowie.
Liz Akerman, Council's Acting Community Development and Engagement Coordinator, says young people across the region have been involved in pulling together this year's activities.
"This year's Youth Week program has been curated by young people for young people, so I'd encourage anyone between the ages of 12 and 25 to get along to the free events across our region and celebrate!" Ms Akerman said.
"There's plenty to do wherever you are in Port Stephens! There's the launch of The Drop centre for young people at Tilligerry, the TYCA Skate and Skoota Comp at Nelson Bay, a picnic on the lawn at Raymond Terrace with a DJ and giant games, and an Art & Music workshop at Medowie Skate Park with Up & Up.
"All of the events put this year's theme of 'Unity Through Diversity' front and centre, and feature fun and interactive entertainment for all young people," Ms Akerman said.
Two members from Council's Youth Advisory Panel will get the conversation started on Thursday 12 April when they attend a state forum held by the Office of the NSW Advocate for Children and Young People at Parliament House in Sydney.
"Our Youth Advisory Panel has the important job of sharing ideas and issues that affect young people of Port Stephens with Council. It's a fantastic way for young people to build their confidence to speak up about issues that affect them," Ms Akerman said.
"This forum at Parliament House is another opportunity to build that confidence and have their voices heard at a state level.
"The Panel has also been the powerhouse behind our Youth Week activities – making sure they are fun, creative and reflect the needs of our young people," she said.
Young people are being encouraged to approach Youth Advisory Panel members at events during Youth Week or contact James Campbell at Port Stephens Council to find out how to get involved at james.campbell@portstephens.nsw.gov.au
Join in one or all of the events across Port Stephens celebrating Youth Week and keep an eye on Council's Facebook page for further details on what's on: