Construction of $6.5m Medowie Sport and Community Facility kicks off
Publish Date 11/02/2019
Construction of the $6.5 million Medowie Sport and Community Facility is now officially underway, with Mayor Ryan Palmer turning the sod this morning.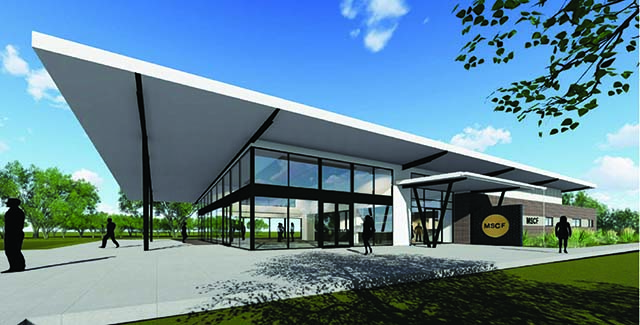 Mayor Palmer says this is an exciting day for Medowie.
"This is a long-awaited project for the community of Medowie and I'm excited for construction to get underway. When it's complete, Medowie will have an incredible community space for everyone to enjoy.
"We want to encourage healthy and active communities. The Medowie Sport and Community Facility will give locals of all ages a place where they can come together and socialise, get outdoors and be active.
"We hope this design will bring all facets of the community together — there's great sporting facilities, meeting spaces for community groups, as well as room for community events or just relaxing with family and friends.
"Plus, in times of emergency, the facility will serve as a community evacuation and recovery centre."
Councillor Chris Doohan, a Medowie local and long-standing advocate for the new facility, says the project is a welcome addition to the area.
"This heralds a new era for Medowie. This facility will strengthen local relationships and give our town a first-class, centrally located community hub.
"The brand new facility will overlook Ferodale Oval and will include meeting spaces, bistro and bar facilities, outdoor seating, a children's playground, a bowling green and car parking.
"I know many in our community are excited this day is finally here, and I for one can't wait to see works progress over the coming months," Cr Doohan said.
Construction of the Medowie Sport and Community Facility is expected to take 12 months pending site conditions. Please see attached images of artist's impression and sod turning.
For more information, visit http://www.portstephens.nsw.gov.au/live/resident-services/capital-works/medowie-sport-and-community-facility