Celebrating women in Port Stephens with International Women's Day scholarships
Publish Date 08/02/2019
Calling all women in Port Stephens age 16 and over! Port Stephens Council's International Women's Day scholarship program is now open, with three $1,000 scholarships up for grabs to help local women achieve their goals.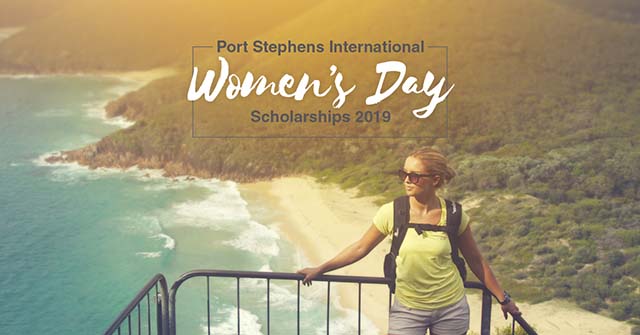 The scholarship program is designed to support local women and the valuable contribution they make to our community across a range of fields - arts, culture, environment, business, community, health and sport.
Women aged 16 years and over who have an important goal they would like to achieve in 2019 are encouraged to apply.
Deputy Mayor Sarah Smith says this is the second year Port Stephens Council has offered the scholarships to celebrate and support local women.
"Port Stephens Council is proud to offer the International Women's Day scholarships again in 2019 to help local women achieve an important goal or contribute to the community.
"We know Port Stephens is full of amazing women! Our scholarships are all about celebrating them and giving them an opportunity to achieve something that they might not otherwise have the means to do," Deputy Mayor Smith said.
"Last year's winners - Jackie Djumovic, Allissa Hassett and Skye Swan - are wonderful leaders in our community who are achieving great things.
"Jackie has used her scholarship to run workshops for young women to teach them about drones and introduce them to technology careers. Allissa has used her scholarship to open an art therapy support group for Port Stephens women, while Skye has established a yoga class for local frontline workers who may be suffering from post-traumatic stress disorder (PTSD)."
Applications close Monday 25 February 2019, with the winners to be announced at the Rotary Club of Salamander Bay's International Women's Day lunch on Wednesday 6 March 2019.
Ina George, President of the Rotary Club of Salamander Bay, says Rotary is proud to be part of the joint initiative with Council.
"Across the globe, International Women's Day brings awareness to equality for women and empowers women from all walks of life to achieve their goals and dreams.
"By granting these scholarships, Port Stephens Council is providing a platform for local women to succeed and become one step closer to achieving their dreams."
At the end of the scholarship period, the successful candidates will be asked to make a small presentation at the 2020 lunch on how they used the scholarship.
For more information and to apply, visit our International Women's Day Scholarship website page or contact Council's Community Development & Engagement team on (02) 4988 0255.