Celebrating NAIDOC Week in Port Stephens
Publish Date 27/06/2019
Beginning on Monday 8 July, marches in Raymond Terrace and Nelson Bay will be the focal point of this year's NAIDOC week celebrations in Port Stephens.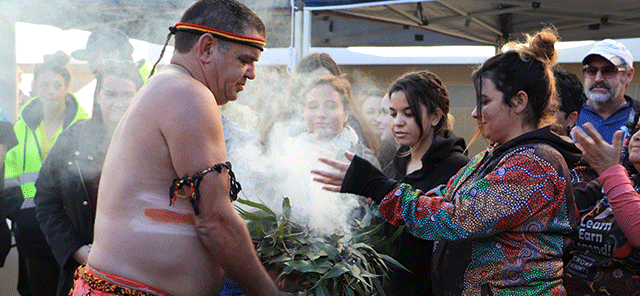 NAIDOC week celebrates Aboriginal and Torres Strait Islander history, culture and achievements, as well as the invaluable contribution Indigenous Australians make to our community. It's celebrated by Australians from all walks of life.
With the theme 'Voice. Treaty. Truth.', Australia's indigenous minorities call for an enhanced role in decision making in Australia's democracy.
Mayor Ryan Palmer says NAIDOC week is a great opportunity to acknowledge and celebrate the valuable contributions that Aboriginal and Torres Strait Islander people make to Port Stephens.
"We have been working alongside our local Aboriginal community for many years and we're very proud of our partnership with the Worimi people," Mayor Palmer said.
"Last year, Port Stephens Council, Karuah and Worimi Local Aboriginal Land Councils signed The Road to Tomorrow Agreement, or Yabang-Gu-Butunga Agreement, which was a first for the region."
"This year, we continue to work together on the shared objectives and projects that have been identified as priorities for Port Stephens.
"We're very proud of our great partnership with the Local Aboriginal Land Councils and we hope to continue working alongside them for the betterment of the Port Stephens community," he added.
For more information visit http://www.naidoc.org.au/