$3m NSW Government funding makes Koala Sanctuary Port Stephens a reality
Publish Date 07/05/2018
Port Stephens will soon be home to a $3 million Koala Sanctuary, with Council successfully securing funding from the NSW Government to build the facility at Treescape Holiday Park, One Mile Beach.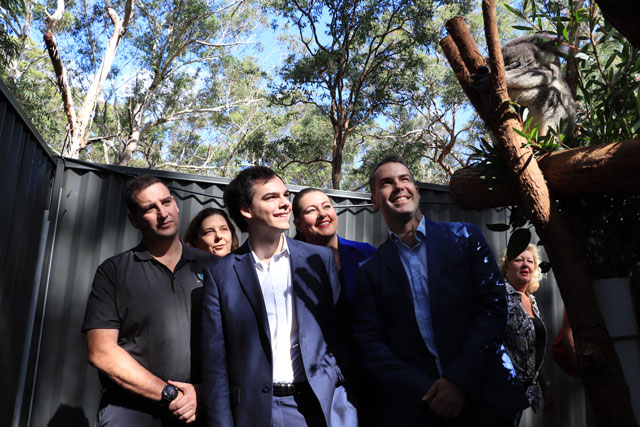 In addition to providing vital care for sick and injured koalas, the Koala Sanctuary will be an important research facility, as well as a unique eco-tourism drawcard for visitors to come and learn about koalas, see them up close, and even stay overnight in nearby accommodation.
Port Stephens Mayor Ryan Palmer described the announcement as a huge win for Port Stephens and its koala population.
"This is wonderful news for Port Stephens and its koalas. This Koala Sanctuary will not only be a place where local volunteers can care for sick and injured koalas – it will also be a research and eco-tourism facility where people from all over the world can come and learn about our unique koala population," Mayor Palmer said.
"Port Stephens is proud to be home to koalas and, with one of the last remaining koala populations on the east coast, it's our responsibility to protect them. This Koala Sanctuary is one way that we can do that.
"I want to thank the NSW Government for helping to make this great idea a reality, and thank our local volunteers, Port Stephens Koalas – without their passion and hard work, this facility would not be possible," Mayor Palmer added.
Council General Manager Wayne Wallis says he is proud of the way volunteers and Council have worked together for the benefit of koalas.
"Port Stephens Council is proud to be partnering with Port Stephens Koalas to create an innovative, world-class facility that will include research, education, treatment, and tourism components," Mr Wallis said.
"Council staff have done a fantastic job in applying for this grant, and we're extremely thankful to the NSW Government for its support through its Regional Growth – Environment and Tourism Fund.
"A lot of hard work is yet to come, but I'm excited that Port Stephens will soon be home to a unique Koala Sanctuary that will help to ensure the future of our local koala population for many generations to come," he added.