Investing in our community
'Maps depicting projects planned for future terms are available in the 'projects' section.'
Port Stephens Council is facing increased pressure to provide enhanced services and facilities to meet the high standards our community expects. In recent years, Council has implemented a range of productivity savings, reduced costs across our operations and been assessed as financially sustainable by the NSW Government.
However, our community is telling us they want more investment in their local area. There are parts of our local government area which require significant work and to achieve this, Council has notified the Independent Pricing and Regulatory Tribunal (IPART) of its intention to apply for a Special Rate Variation (SRV) in 2019.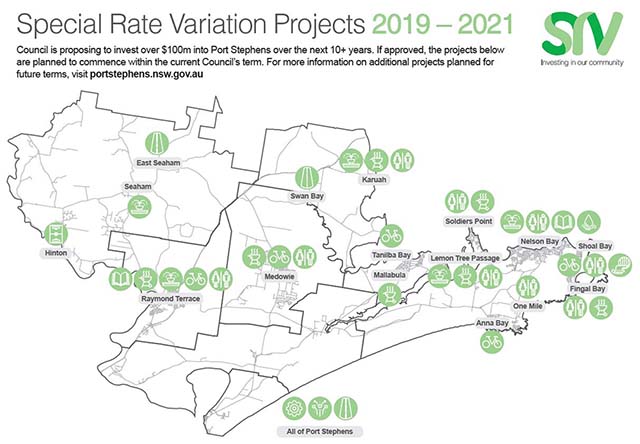 Click on map above to view full details.
Maps depicting projects planned for future terms are available in the 'projects' section on the right of this page.
Integrated Planning and Reporting documents on exhibition
Council at its meeting of 13 November 2018 resolved to exhibit the Integrated Planning and Reporting documents revised to include the Special Rate Variation.
The Integrated Planning and Reporting documents revised to include the Special Rate Variation will be on exhibition from 14 November 2018 to 5pm 21 December 2018 at the following locations:
Council's Administration Building, 116 Adelaide Street, Raymond Terrace (during normal business hours).
Tomaree Library, Town Centre Circuit, Salamander Bay.
Raymond Terrace Library, Sturgeon Street, Raymond Terrace.
Tilligerry Community Library
Medowie Community Hall
Mobile Library (various locations).
The Integrated Planning and Reporting documents are also available for download below:
Local Information Sessions
Council has also scheduled three community meetings across the LGA to provide opportunity for the community to learn more and provide feedback on the IP&R suite of documents. These sessions will be held on:
All meetings are scheduled for 5.30-7.30pm - starting promptly with a presentation by the Mayor followed by an opportunity for questions from the audience.
You can see how the proposed rates and charges will affect you over the life of the SRV by viewing the appropriate Ready Reckoner on the right side of this page.
Any enquiries please telephone Penny Amberg on 0419 676 533.
Submissions are invited and can be lodged, in writing to the General Manager at Port Stephens Council, PO Box 42, Raymond Terrace NSW 2324 (or email to council@portstephens.nsw.gov.au from 14 November 2018 until 5.00pm on 21 December 2018. Please quote file number PSC2017-01717-001 with your submission.
Please note, submissions may be made in any format, which is able to be sent via email and is less than 10mb in size.
This may include a video file or audio voice recording in addition to more traditional written format.
---
Next steps
November - December 2018 Public exhibition of revised Integrated Planning and Reporting documents (see above).
January 2018 - February 2019 Council reviews community feedback
11 February 2019 Council submits application to IPART.
March 2019 Public submissions to IPART close.
May 2019 IPART announces its determination on Council's application.
July 2019 If successful, the new rate increase would come into effect.
If successful, this proposed rate increase will provide additional funds to deliver major projects requested by the community - stimulating local economies, driving business growth, attracting visitors and enhancing our region for the benefit of all.
We are conducting a comprehensive community consultation process from late July, presenting the community with a range of options to consider and provide feedback on. Our community will have a major say in any application made to the State Government.
Together we are investing in our community.
Proposed application
Option Three: Extend - SRV of 7.5% per annum for 7 years - Council endorsed
Total cumulative increase: 66%
Total estimate of funds raised: $30.9m rate peg plus $71.8m
✔ Town Centre and neighbourhood revitalization
✔ Sporting facilities upgrade
✔ More funding for libraries and community services
✔ Community amenities - including new BBQ facilities across LGA
✔ More events in Port Stephens
✔ Drainage improvements for Shoal Bay
✔ Substantial road resealing and rehabilitation program
✔ A range of new paths and cycle ways
✔ Arts Centre for Raymond Terrace
Documents