Investing in our community
Port Stephens Council is facing increased pressure to provide enhanced services and facilities to meet the high standards our community expects, and to continue to invest in our local area.
While Council has implemented a range of productivity savings, reduced costs and been assessed as financially sustainable by the NSW Government, there are parts of our local government area, which require significant work. To achieve this, Council has applied to the Independent Pricing and Regulatory Tribunal (IPART) for a rate increase, known as a Special Rate Variation (SRV) in 2019.
What's next?
11 February - 14 March 2019 - Public can make submissions to IPART
14 May 2019 - IPART announces its determination on Council's application
July 2019 - If successful, the new rate increase would come into effect
Projects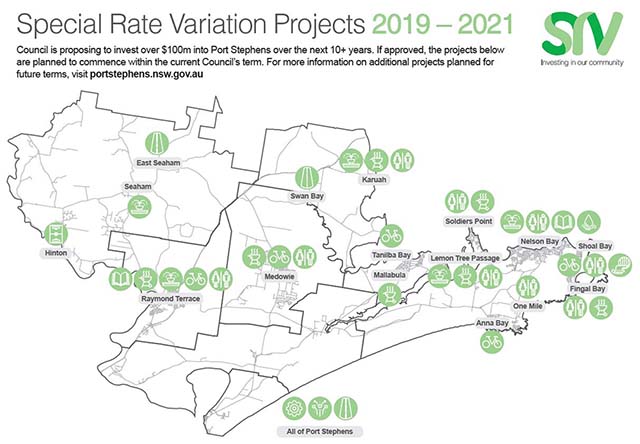 Click on the map above to view full details.
For more information on projects scheduled for future terms, visit the 'Projects' section on the right of this page.
Council's application
SRV of 7.5% per annum for seven years (to remain permanently in place)
Total cumulative increase: 66%
Total estimate of funds raised: $30.9m rate peg plus $71.8m
✔ Town Centre and neighbourhood revitalisation
✔ Sporting facilities upgrade
✔ More funding for libraries and community services
✔ Community amenities - including new BBQ facilities across LGA
✔ More events in Port Stephens
✔ Drainage improvements for Shoal Bay
✔ Substantial road resealing and rehabilitation program
✔ A range of new paths and cycle ways
✔ Arts Centre for Raymond Terrace