If you store your dinghy on a council reserve you will need to register with Port Stephens Council.
Many foreshore reserves in Port Stephens have experienced a high number of dinghies and other water vessels being placed and abandoned on reserves. This has limited the ability of residents and visitors to use and enjoy foreshore reserves. The Foreshore Dinghy Storage Policy that can be download from our Policies page was introduced in 2015 to provide a balance between the storage of dinghies and other recreational activities. The policy affects owners of dinghies and other water vessels who store these vessels on foreshore reserves.
What is a dinghy?
A dinghy is defined as a single hulled or multi hulled vessel to a maximum of 3 metres. All water vessels which do not fit the
dinghy definition cannot be registered and therefore cannot be stored on Council foreshores.
Unauthorised vessels include:
canoe or kayak;
sailboard;
jetski;
any vessel over 3m in length;
medium/large trailable vessel;
trailer sailer/sailboat fitted with mast;
catamaran;
work punt or pontoon;
rowing skull
The policy involves the removal of unregistered and unauthorised water vessels from the foreshore reserve and is enforceable by Council Rangers. An initial Notice of Abandoned and/or Unattended Article will be issued to unauthorised vessels. The dinghy owner has two (2) weeks to obtain a permit or remove the vessel before action is taken. To enquire about an impounded vessel, please call Council Rangers on (02) 4988 0255.
How to register a dinghy?
Registration may be made in person via the Nelson Bay Visitors Information Centre or the Raymond Terrace administration office. Alternatively, a form can be downloaded from our website (see below), completed and returned by email or post.
Step 1
Step 2
Receive your individually numbered annual registration sticker.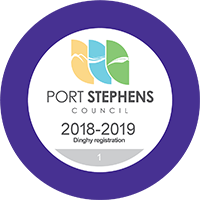 Step 3
Apply sticker to your vessel. Remember that you have to repeat this process next year.