'Fantastic Forgeries' 2018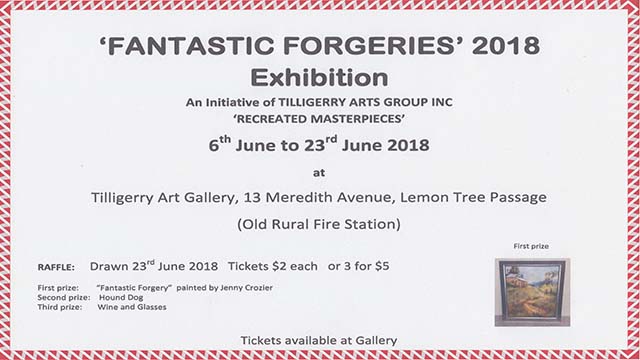 Wednesday 06/06/2018 - Saturday 23/06/2018
Venue: Tilligerry Art Gallery (Old Rural Fire Station)
Address: 13 Meredith Avenue, Lemon Tree Passage NSW
Cost: Free
Email: info@tilligerryartsgroup.com
An exciting Exhibition of Fantastic Forgeries - ' Recreated Masterpieces' - is to be held at the TAG Gallery from 6th to 23th June! An initiative of Tilligerry Arts Group Inc 'Recreated Masterpieces'.
The artist master you copy needs to have been deceased for 70 years and the exhibition is open to any medium, whether it be textiles, pottery, jewellery, glass, metal, etc.
All artworks are for sale.
Please email marcia.wakeman@gmail.com for more information and an entry form. Non TAG members are $5 per entry.
Entry forms must be received by Gallery staff no later than 28 May 2018.
Raffle
Drawn 23rd June 2018. Tickets $2 each or $5 for 3.
First prize: 'Fantastic Forgery' painted by Jenny Crozier
Second prize: Hound dog
Third prize: Wine and glasses
Disclaimer
Council has no control over the content of material accessible on any site cross-referenced and makes no representations about the accuracy of information contained on those websites. Council is not liable for the content on those websites. It is accordingly the responsibility of the internet user to make their own decisions about the relevance or accuracy, currency and reliability of the information found on those sites..
In addition, Council does not necessarily endorse or support the views, opinions, standards or information expressed at the linked sites. They have been included as information sources only.