Startup Stories - Graeme Booker & Gary Ellem, iSee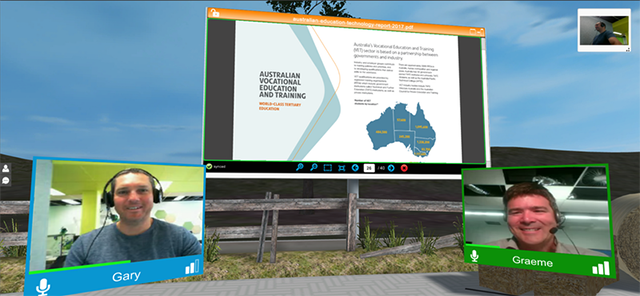 Visionary biophysicist Dr Gary Ellem is a futurist in the true sense of the word. For more than a decade Gary has been an advocate at the state and local level for a sustainable and accessible future through electric vehicles as a means of futureproofing our economy and solving gridlock.
Recently Gary has turned his attention to the future of virtual education and collaboration after developing a commercialisation strategy for a Cooperative Research Centre (CRC) spin-out, iSee - an Australian built video collaboration solution that enables many-to-many crowd collaboration, merging video conferencing with interactive, virtual spaces. It utilises a patented bandwidth management system which allows users to connect from anywhere with large numbers of people using only laptops and a fixed or mobile internet connection.
iSee had its origins in the Smart Services CRC, a Federal Government program for research and development that supports innovation in Australia's services economy. One key focus was improving the ability for people to learn, create and develop trusted networks both nationally and internationally. In 2014 that iSee was founded to bring the groundbreaking technology developed in the Smart Services CRC to the world and is now being rolled out commercially within a range of organisations.
Join Graeme and Gary in person at DSA-18 Hub or via live webstream at Three76 Hub to hear the iSee story and how the team are revolutionising the future of virtual meeting spaces and online education.
About Startup Stories
Startup Stories takes place every Thursday from 1 pm at the University of Newcastle's coworking spaces Three76 Hub (Newcastle) and DSA-18 Hub (Williamtown)*. Startup founders talk candidly about their experience as an entrepreneur and business owner – the highs, the lows, the wins, the mistakes, the whole enchilada. Startup Stories provides real-life examples of the different stages of the startup journey, creating a forum for startups to share and learn but also for the community to see tangible evidence of entrepreneurship making a difference in our region. #i2nStartupStories
*One space hosts the startup founder speaker while the other hosts a live web stream of the talk.
Program Partners
UON is proud to be able to bring this event to you via the NSW State Government's Boosting Business Innovation Program.
Disclaimer
Council has no control over the content of material accessible on any site cross-referenced and makes no representations about the accuracy of information contained on those websites. Council is not liable for the content on those websites. It is accordingly the responsibility of the internet user to make their own decisions about the relevance or accuracy, currency and reliability of the information found on those sites..
In addition, Council does not necessarily endorse or support the views, opinions, standards or information expressed at the linked sites. They have been included as information sources only.