Exploring being my own boss - registrations open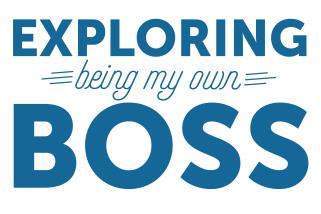 Are you aged between 18 – 24 years? A job seeker not in employment, education or training? Ever considered starting your own business?
In early 2017 The Business Centre is offering a new program to give you a taste of entrepreneurship and self-employment. Exploring Being My Own Boss is a workshop program conducted over two weeks (25 hours per week) and fully subsidised by the Australian Government Department of Employment. If you have a business idea, or dream of being your own boss take part and learn the practical skills to get empowered and start your own venture.
Upon completion of the workshop there is also opportunity for complementary work placements where you can gain on-ground experience in a similar business or industry as your own start-up.
If you'd like to learn more and are interested in undertaking the program, register your interest here.
Disclaimer
Council has no control over the content of material accessible on any site cross-referenced and makes no representations about the accuracy of information contained on those websites. Council is not liable for the content on those websites. It is accordingly the responsibility of the internet user to make their own decisions about the relevance or accuracy, currency and reliability of the information found on those sites..
In addition, Council does not necessarily endorse or support the views, opinions, standards or information expressed at the linked sites. They have been included as information sources only.