Movies @ your library - Love & Friendship - Raymond Terrace Library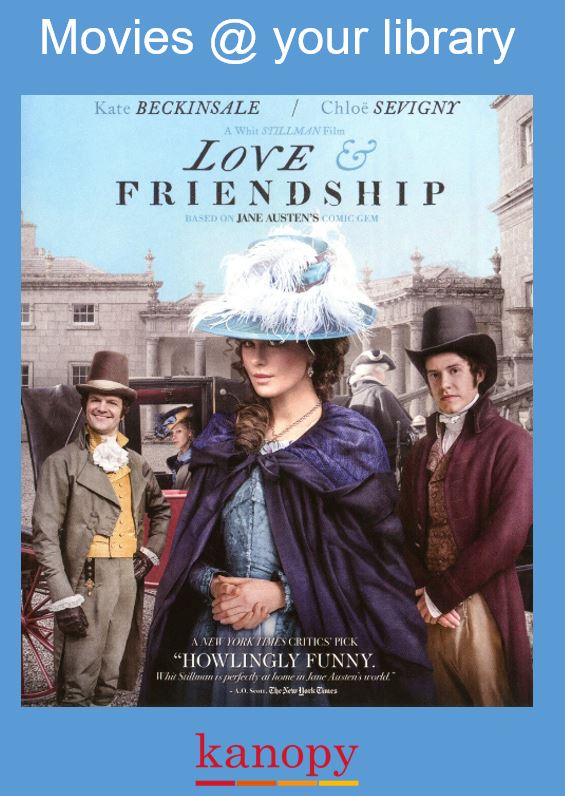 Thursday 14/02/2019
12.30PM -
Venue: Raymond Terrace Library
Address: 18A Sturgeon Street Raymond Terrace
Cost: Free
Booking Details: Bookings essential as places are limited. Contact Raymond Terrace Library on 4988 0111.
Love & Friendship is a 2016 period comedy based on Jane Austen's novel Lady Susan, written ca. 1794. The film stars Kate Beckinsale, Chloë Sevigny, Xavier Samuel, and Emma Greenwell. The film follows recently widowed Lady Susan in her intrepid and calculating exploits to secure suitably wealthy husbands for her daughter and herself.
Disclaimer
Council has no control over the content of material accessible on any site cross-referenced and makes no representations about the accuracy of information contained on those websites. Council is not liable for the content on those websites. It is accordingly the responsibility of the internet user to make their own decisions about the relevance or accuracy, currency and reliability of the information found on those sites..
In addition, Council does not necessarily endorse or support the views, opinions, standards or information expressed at the linked sites. They have been included as information sources only.