Be Connected - Tomaree Library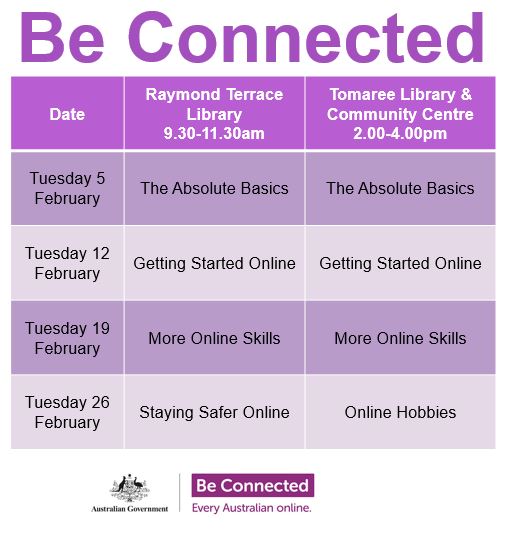 Tuesday 01/01/1970
2.00PM - 4.00PM
Every week on Tuesday, until 26th Feb 2019
Venue: Tomaree Library and Community Centre
Address: 7 Community Close, Salamander Bay
Cost: Free
Booking Details:
Bookings are essential as places are limited. Contact Tomaree Library 4988 0670.
Join thousands of Australians who are taking free courses on everything from how to access the internet, to using your device and keeping in touch with others online.
Be Connected is an Australia wide initiative empowering all Australians to thrive in a digital world.
Port Stephens Library is a community partner offering support to develop your digital skills and confidence.
Our first course will run on four consecutive Tuesdays commencing 5 February 2019.
Disclaimer
Council has no control over the content of material accessible on any site cross-referenced and makes no representations about the accuracy of information contained on those websites. Council is not liable for the content on those websites. It is accordingly the responsibility of the internet user to make their own decisions about the relevance or accuracy, currency and reliability of the information found on those sites..
In addition, Council does not necessarily endorse or support the views, opinions, standards or information expressed at the linked sites. They have been included as information sources only.