ANZAC Day in Port Stephens 2018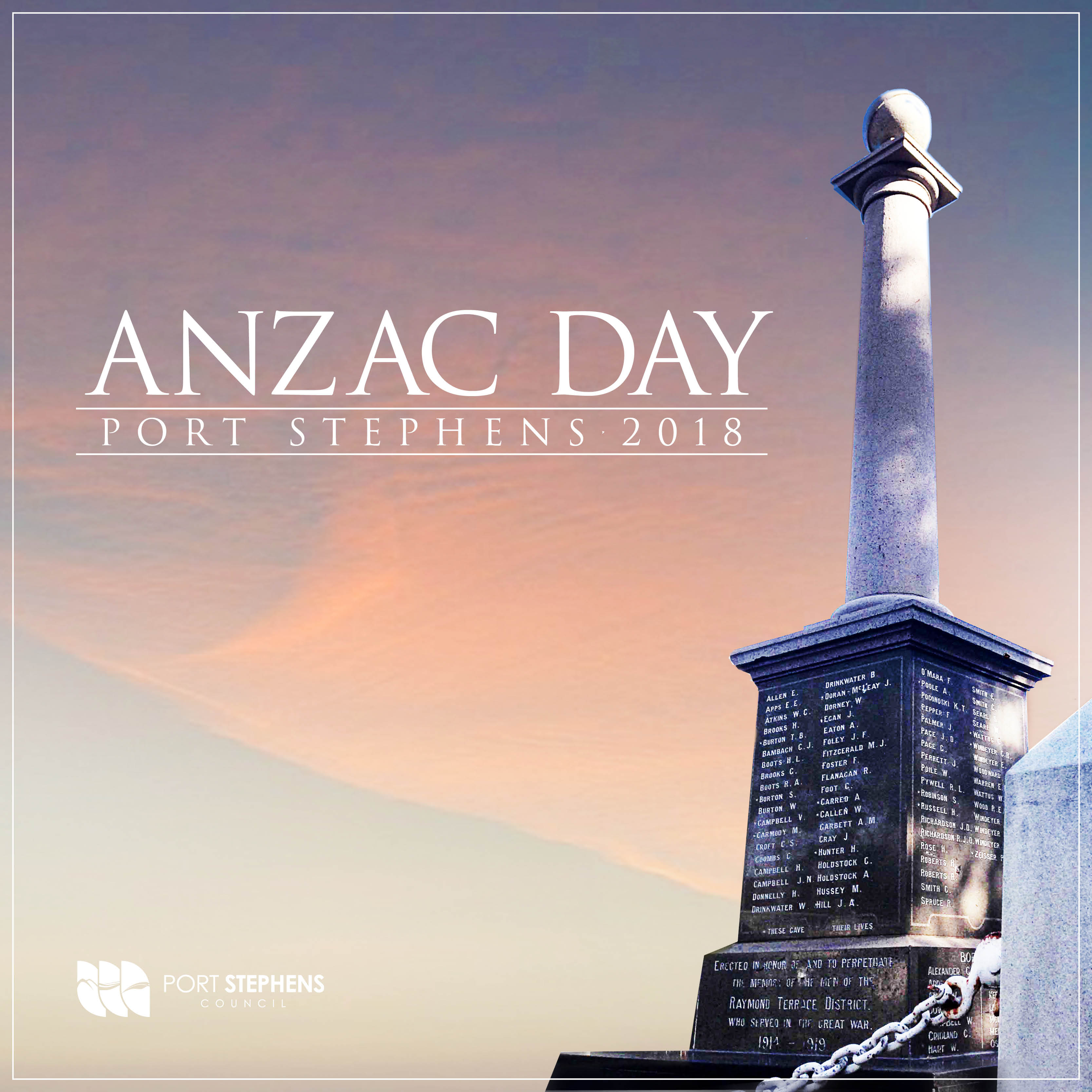 Wednesday 25/04/2018
Venue: Various locations across Port Stephens
Cost: Free
Anzac Day, 25 April 2018, is one of Australia's most important national occasions. It marks the anniversary of the first major military action fought by Australian and New Zealand forces during the First World War.
Events in Port Stephens:
Karuah
5.50am - March commences from Tony King's Garage (on the Old Pacific Highway) continues along the Pacific Highway for the Service in Memorial Park, Memorial Drive, Karuah
7.00am - Service concludes. March will then continue along Bonser Lane into Bundabah Street across the old Pacific Highway to disperse in the Karauah RSL District Car Park for breakfast at the club.
9.00am - Memorial Service. Memorial Wall, Karuah District RSL Club.
Nelson Bay
Commemoration service from 10.50am at Apex Park, Victoria Parade Nelson Bay - coordinated by the Nelson Bay RSL Sub-Branch.
Anzac Day luncheon at Wests Nelson Bay Diggers at 12:00 noon.
Medowie
Short march from the corner of Ferodale and Medowie Rds and then along Ferodale Road at 5:45am.
6:00am - Dawn Service in the Lions Memorial Park.
Email njbiggar@outlook.com or call 0402 571187.
Raymond Terrace
Dawn Service at Anzac Park, Raymond Terrace in conjunction with Raymond Terrace RSL Sub-Branch. Temporary closure of several streets accessing the ANZAC Park roundabout (Jacaranda Street; Port Stephens Street and Glenelg Street).
Main Service at Anzac Park, Raymond Terrace in conjunction with Raymond Terrace RSL Sub-Branch. Members will form up at 1030 hours in Sturgeon Street, Raymond Terrace, between Glenelg Street and William Street.
Seaham
Service will be conducted at the "Knitting Circle" Memorial on Newline Road, Seaham for 30 minutes.
Parade will form up in Seaham Weir Park on East Seaham Road at 0855 hours and march approximately 300 meters to the Memorial on Newline Road.
Port Stephens Visitor Information Centre
Port Stephens Visitor Information Centre will be closed for Anzac Day this year. The centre is a seven day a week operation with closures traditionally on Good Friday and Christmas Day only. However due to a reduced demand for the centre on Anzac Day previously Council has decided to close the centre in 2018.
Disclaimer
Council has no control over the content of material accessible on any site cross-referenced and makes no representations about the accuracy of information contained on those websites. Council is not liable for the content on those websites. It is accordingly the responsibility of the internet user to make their own decisions about the relevance or accuracy, currency and reliability of the information found on those sites..
In addition, Council does not necessarily endorse or support the views, opinions, standards or information expressed at the linked sites. They have been included as information sources only.