All about your yellow-lidded recycling bin
Council provides a fortnightly recycling collection service to residential and commercial properties. Properties receive a 240 litre yellow-lidded bin (with the option to supersize to 360 litre bin) that all your recyclables should be placed in for sorting at our recycling facility.
Download the Get Sorted app for helpful information on what can be placed in your recycling bin and to help you keep track of your recycling days, or download a recycling week calendar.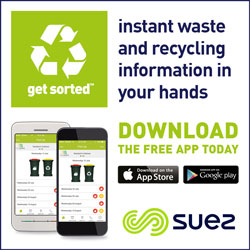 Below is a list of the most common items that you can recycle in your kerbside recycling service:
| | |
| --- | --- |
| | PLASTIC - fruit punnets, biscuit trays, detergent bottles, cake trays, plastic containers, juice bottles, shampoo, soap and conditioner bottles, milk bottles, soft drink bottles, margarine and butter containers, small and large yoghurt containers, ice cream containers, bottle lids. |
| | GLASS BOTTLES AND JARS - medicine bottles, vitamin bottles; soft drink, water, beer, wine and champagne bottles; vegemite, honey and pickle jars. |
| | ALUMINIUM - aluminium cans, foil, foil lined cartons (juice and milk), foil trays, pots and pans. |
| | PAPER AND CARDBOARD - books, cardboard (all types), egg cartons, envelopes, gift wrap, greeting cards, magazines, newspaper, toilet rolls, tissue boxes, office paper, pizza boxes, phone books. |
| | STEEL - aerosol cans (deodorant, bug spray, air freshener etc.), cooking oil tins, pet food cans, canned condiments, pots and pans. |
Recycling contamination
It is important to make sure that only recyclable items are placed in the yellow-lidded recycling bin. Placing incorrect items in the recycling bin is called 'contamination' and this causes problems during the sorting of recyclables. This affects the ability of an item to be processed into a new product and in some cases, just a few contaminated bins can ruin an entire truckload of recyclables.
Plastic bags should NOT be placed in your recycling bin
Plastic bags are the most common contaminant found in recycling. Remember not to 'bag' your recycling. Plastic bags cannot be placed in the recycling bin - they should be reused, returned to a supermarket for recycling at a plastic bag recycling station, or disposed of in your garbage bin.
Hints for recycling
To ensure that processes at the recycling facility are efficient, please follow the guidelines below for recycling:
containers should be empty and rinsed;
do NOT squash containers, the recycling facility processes containers in their current state;
paper and cardboard that has food and oil remains are not recyclable;
do NOT shred paper; and
place the lids from steel cans inside the can.
What happens to your recycling after it is collected?
Your recyclables are taken to a materials recovery facility at Gateshead. At this facility, recyclables are sorted into their different materials; steel, aluminum, glass, paper, cardboard and plastics. They are then bailed and moved onto be manufactured into new products that we can reuse and recycle again.
The benefits of recycling
By recycling, we not only reduce the waste going to landfill, we also reduce the need for extra resources to be extracted from our environment. Recycling steel and aluminum cans for example, reduces the need for these metals to be mined, while recycling paper and cardboard products reduces the need for logging our forests. The benefits don't stop there, by re-manufacturing products from recycled materials we use less energy and reduce the need for virgin materials.
Downloads