Garbage service
All about your red-lidded garbage bin
Council provides a weekly waste collection service to residential and commercial properties.
Properties receive a 240 litre red-lidded bin that is for domestic use only.
To find out when red-lidded bins are collected in your area, view the map of garbage collection zones. If you are unsure of your collection day contact our Customer Service Centre on 1300 734 470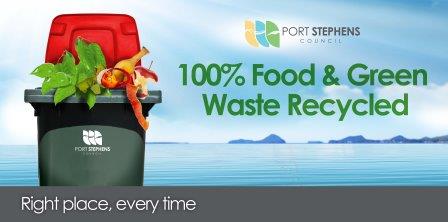 The following items are accepted in your garbage bin
food scraps;
non-recyclable packaging e.g. plastic bags;
plastic bags/garbage bags;
green waste;
nappies;
broken household items that cannot be reused or fixed; and
used pizza boxes and other paper and cardboard that is contaminated with food (tissues, paper towel).
Since 1999, your garbage has been taken to the Newline Road Waste Facility at Raymond Terrace where the organic portion (food scraps, green waste etc) is processed into compost through an advanced resource recovery technology - owned and operated by SUEZ environment.
The compost is used as a resource to rehabilitate mine sites around the Hunter Valley. This technology allows Council to divert 50% of the contents of your garbage bin from landfill every year as well as return a natural resource back into the environment.
To learn more about what happens to your waste watch the virtual tour below.
As we use this process, it is important that the items listed below are NOT disposed of in your garbage bin.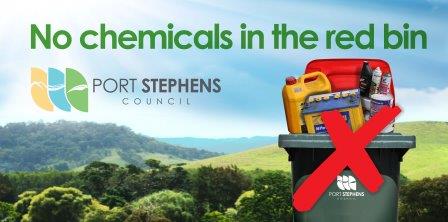 Items that CANNOT be disposed of in your garbage bin include
gas cylinders, including disposable propane cylinders;
batteries including car, rechargeable and single use;
chemicals and chemical containers such as pesticides, herbicides, fertilisers, poisons, solvents, motor oils, batteries, gas bottles, acids/alkalis;
motor oil and motor oil containers;
unwanted medicines;
community sharps such as needles and lancets;
bulk items such as furniture;
building waste;
paint or liquid wastes;
mobile phones;
printer/toner cartridges;
tyres; and
fluorescent tubes and compact fluoro tubes.
To find out the correct disposal methods for each of these items download the Get Sorted Waste App or check the hazardous waste page.
Correct bin etiquette
Placing your bins out on the kerb is simple enough, but like most things there are some tips. Presenting your bin correctly not only allows us to provide a quicker and quieter service, it also ensures that your bin is emptied every time. Residents must ensure that:
their bin is not overflowing;
bins which weigh 70kg + are unable to be serviced by the truck;
bins are spaced 1m apart to allow the bin grab to pick them up.
To find out more about bin etiquette download the Waste Services Brochure
Frequently asked questions
How do I get a new or extra service?
For new or additional garbage services please contact our Customer Service Centre on (02) 4988 0255.
What do I do if my bin is missed or damaged?
Please contact the Waste Customer Call Centre on 1300 734 470.
What do I do with excess waste?
Residents can take excess waste to the Council operated Waste transfer Station at Salamander Bay or the privately owned waste facility at Newline Road, Raymond Terrace. Find out the Waste transfer Station at Salamander Bay operating hours, fees and what types of waste are accepted.
Alternatively, you can utilise your kerbside collections by calling 1300 734 470.