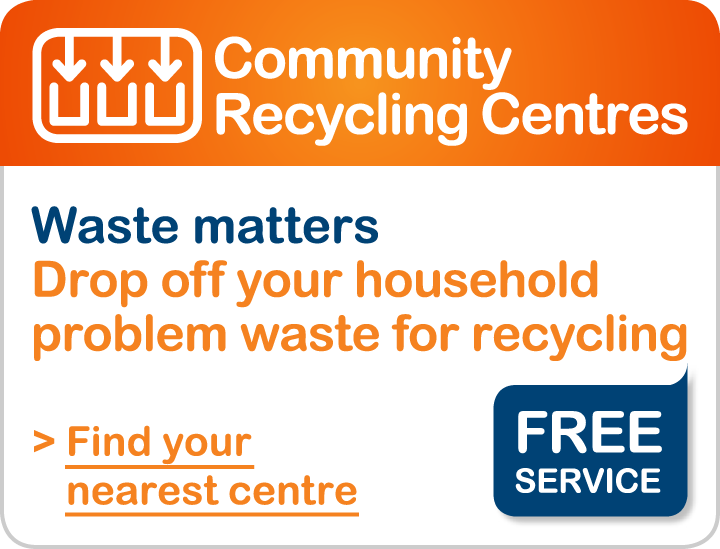 Old and leftover chemicals can be harmful to humans if they are left lying around and harmful to the environment if they are disposed of incorrectly. Port Stephens Council, in conjunction with the NSW Office of Environment & Heritage operates a Community Recycling Centre at Salamander Bay Waste Transfer Station and an annual 'Chemical CleanOut' for Port Stephens residents. These are FREE disposal services to encourage the return, reuse and recycling of household chemicals.
A Community Recycling centre for hazardous waste is run at Salamander Bay Waste Transfer Station - residents can drop off paints, chemicals and other hazardous waste for free
Drop-off centres accept household quantities of materials including unwanted or unused paint, paint related products, pesticides, herbicides, poisons, solvents and household cleaners, motor oils, fuels, batteries, gas bottles, fire extinguishers, pool or hobby chemicals, and fluorescent tubes.
Contact Council or call the CleanOut Information line on 131 555 or visit the CleanOut website to find out when the next Chemical CleanOut is on in the Port Stephens area. Also see below for the most recent Chemical CleanOut brochure.
During 2019 the following Chemical Cleanout's will take place in Port Stephens
Raymond Terrace - Port Stephens Council Administration building carpark at 116 Adelaide St, on Saturday 2nd February 2019
Lemon Tree Passage - Lemon Tree Passage Waste Depot at 1261 Lemon Tree Passage Road, on Saturday 10 August 2019
Downloads