Kerbside clean up
'On Call' bulk and green waste collection
Council operates an on call kerbside collection service for residents to place their unwanted bulky and green waste out on the kerb for collection.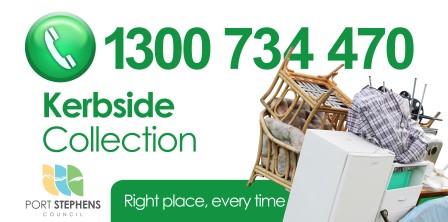 How the service works
To organise your collection call 1300 734 470 or book online.
Each residential property is entitled to two collections per financial year.
Residents may place out both bulky and green waste for collection, please see the acceptable items below.
Residents MUST book their collection and only place their waste out on the footpath the day prior to their collection.
During peak time Nov to March residents may experience delays up to 4 weeks so please book ahead to avoid disappointment.
Collections are allocated based on a weekly suburb schedule. Please call 1300 734 470 should you need to discuss any issues with the day of the week that you have been allocated for your collection.
View the Waste Services Brochure (PDF 4.3MB)
To book your 'On Call' clean up phone the Customer Service Centre 1300 734 470 or online below.
Book your clean up online
Terms and conditions of service
Only 1m x 1m will be collected (1 box trailer). Waste placed out in excess of this will be removed but the resident will forfeit their second collection for the year. If the residence has already received a collection the excess waste will be left and must be removed immediately;
waste must be placed out neatly on the foot path and free of any hydrants to allow for pedestrian access;
waste must ONLY be placed out the night before collection; waste placed out on the footpath prior to this will be instructed to be removed or you may be fined. This is to keep our area looking tidy and avoid others from being able to illegally dump waste;
waste must be bundled and tied and able to be lifted by 2 people;
items must be less than 1.8m in length;
items that are not accepted wastes will not be collected;
multi-unit dwellings will be required to organise a joint collection day through their strata manager;
please use the Council booking sticker mailed to you. Should you not receive a sticker your booking will still be collected (NOTE - bookings made within one week of collection will not receive a sticker). ;
if you have not received a confirmation email within 24 hours of making your booking please call 1300 734 470 to confirm.
Acceptable Items:
furniture - lounges, chairs and cupboards etc.
white goods - fridges, washing machines etc.
green waste
scrap metal - fencing, hot water systems, BBQ's etc.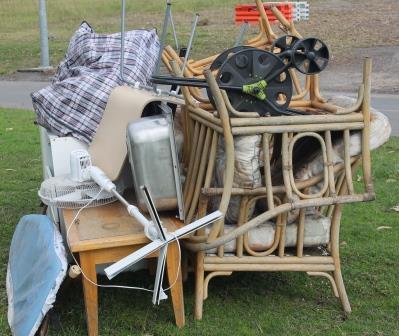 Unacceptable items:
car batteries;
gas bottles;
oils, paints and liquid waste;
chemicals;
fire extinguishers;
tyres;
automobile parts (car engines etc);
asbestos;
building waste;
glass; and
fiber glass.
bean bags
general household rubbish (food)