Road closures
Anzac Day Services 2018
Port Stephens Council has received applications for the temporary closure of the following Council roads for ANZAC
Day events to be staged on Wednesday 25th April, 2018.
Medowie - Ferodale Rd - Kirrang Dr to Medowie Rd - between 5.45am - 6.00am
Nelson Bay - Stockton St - Dowling St to Victoria Pde and Victoria Pde from Teramby Rd to Laman St - between
9.30am - 11.15am
Karuah - Tarean Rd - Bundabah St to Memorial Dr - between 5.45am and 6.30am, then Bonser Lane and Bundabah Street - 7.00am to 7.30am
Raymond Terrace - Jacaranda Ave – Between 5.40am - 6.15am and then from 11.00am until 12.00pm, Sturgeon St - Between Glenelg St and William St - from 10.00am to 10.50am, William St from Sturgeon St to Port Stephens St and Port Stephens St from William St to Jacaranda Ave - Between 10.30am and 11.00am
Tanilba Bay - Lemon Tree Passage Road - Avenue of the Allies to Reliance Bvd - Between 9.30am -10.00am
Further enquiries may be made by contacting the event organiser on 0402 571 187 for Medowie, 0408 449 256
for Karuah, 0407 291 922 for Nelson Bay, (02) 4987 2875 for Raymond Terrace, (02) 4984 5057 for Tanilba Bay or Council's
Enginerring Services on phone (02) 4988 0255.
---
Medowie
Hunter Water advises that due to construction work Grahamstown Road, Medowie, will be closed (24 hrs a day) from Tuesday 20 February 2018 to April 2018 (approximately 5 weeks). Traffic on Grahamstown Road will be diverted to Richardson Road.
For more information about the construction project please visit www.hunterwater.com.au/campvale. If you require additional information or assistance please contact Noor Timbol Project Manger on (02) 4979 9664 or mobile 0400 285 354.
For after-hours emergencies call Hunter Water on 1300 657 000.
---
Current maintenance
View the list of current maintenance and construction work happening in Port Stephens.
---
Live Traffic
Use Live Traffic NSW for the most up to date traveller information and personalised alerts for NSW roads.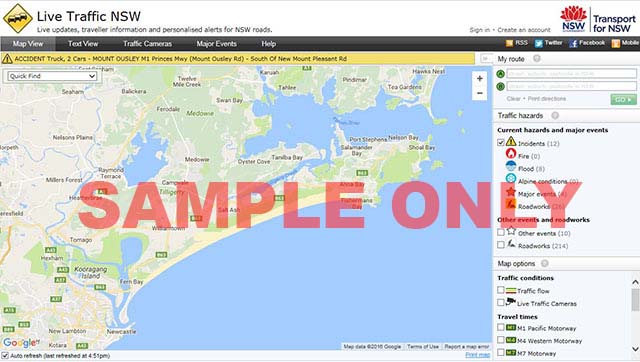 Real-time road apps
Roads and Maritime Services provides a number of real-time apps for every driver. Pick and download the best app for you to plan your journey and steer clear of congestion.