Becoming a member
Membership is Free!
Port Stephens Library is part of a co-operative agreement with Newcastle Region Library, giving borrowers access to a large regional catalogue.
Proof of identity with your current name and address is required to join. Membership, including unsupervised access to the internet, must be approved by a parent or guardian when the applicant is under 17 years of age.
A membership card will be issued, which you need to bring to the library in order to borrow. Please notify the library immediately if your card is lost or damaged. A replacement charge applies. Your card can be used at all Port Stephens Library Branches and any branch of Newcastle Region Library.
You may borrow up to 20 items per visit with a maximum of 40 items permitted on loan at one time.
The following loan periods apply:
Books and Audio Books - 4 weeks
Popular Items, Magazines, CDs and DVDs - 2 weeks
Items may be renewed once if they have not been requested by another customer. Items that are not returned by their due date will attract an overdue fee. No overdue fees are charged for items borrowed by children on their own cards.
Do you need to change your address or other contact details? Please provide us with your new details by phone, email or when you next call in.
RFID self service
Radio Frequency Identification (RFID) technology works through the wireless use of electromagnetic fields which transfer data for the purpose of automatically identifying and tracking tags attached to objects. RFID tags have been attached to every item in the Newcastle Region library collection. This technology provides library patrons with a simple, convenient and quick system of checking out their own loans.
You can now borrow items in three easy steps using the self-check kiosks located at Raymond Terrace and Tomaree Library.
Scan your membership card on the pad.
Place up to 5 items on the pad, then select borrow items.
Select exit and take your receipt.

Our documents and fees
Food for fines 2017
Donate non-perishable food or toiletries in lieu of payment of overdue library charges this November and December 2017.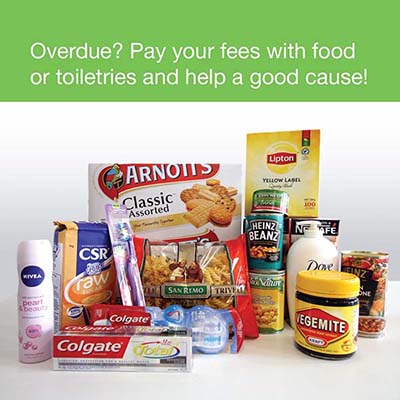 Food and toiletries will be donated to Emergency Relief Agencies who provide meals and Christmas hampers to local families in need of extra support this festive season. Simply take your items to Raymond Terrace, Mobile or Tomaree libraries.
$5.00 for every non perishable food item and $10.00 for every toiletry item donated will be cleared from library members overdue fees record.
There is no limit to the amount of overdue charges you can pay off, however donated items will only be used to clear overdue charges.
The campaign will run until 11 December 2017.