Food for fines 2018
Donate non-perishable food or toiletries in lieu of payment of overdue library charges. The campaign will commence on Monday 12 November and run until Monday 10 December 2018.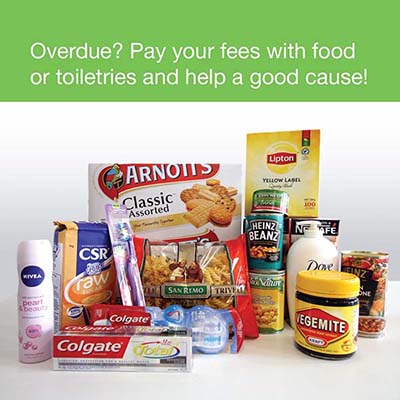 Food and toiletries will be donated to Emergency Relief Agencies who provide meals and Christmas hampers to local families in need of extra support this festive season. Simply take your items to Raymond Terrace, Mobile or Tomaree libraries.
$5.00 for every non perishable food item and $10.00 for every toiletry item donated will be cleared from library members overdue fees record. All food and toiletries must be non-perishable and in their original packaging. Items which are passed the use by date cannot be accepted.
There is no limit to the amount of overdue charges you can pay off, however donated items will only be used to clear overdue charges. Contact the library for further details.
The campaign will run until 10 December 2018.