Wildlife
Koalas
Port Stephens has the most significant southerly population of koalas in NSW. We want to help residents, businesses and visitors understand and value koalas.
The inaugural Port Stephens Koala Gala kicks was held Sunday 2 July 2017 and it was an opportunity to celebrate our unique koala population and learn how to protect our furry friends who call Port Stephens home.
One of the highlights of the Gala is the premiere screening of 'Journey of Steve the Koala' - an animation sponsored by Council, designed by local artists and put together with the help of primary school children from across the Tomaree Peninsula. Read more about the Koala Gala event or watch the full animation:
Koalas are a threatened species in NSW classified as vulnerable under the Threatened Species Conservation Act 1995.
Some of the challenges facing koalas in Port Stephens include habitat loss, disease, vehicle collisions and dog attacks.
The koala habitat in Port Stephens has been dramatically reduced since European settlement. Studies showed in 1998 that the population was 20% of the original population pre-settlement and further anecdotal evidence suggests this figure is now around 15%. Clearing and fragmentation of vegetation resulting from residential development, road building and grazing land throughout the LGA has created barriers to movement, reducing the genetic integrity and breeding opportunity for the current population.
Scattered remnants of habitat help the koala survive by providing food and a breeding habitat to isolated populations along the Peninsula. However, remnants of native vegetation are continuing to be lost as development in the area expands in line with population increases.
In order to implement measures to protect koalas and their habitat and maintain compliance with state planning policies, Council and a Steering Committee developed the Port Stephens Council Comprehensive Koala Plan of Management (CKPoM).
The CKPoM was developed throughout the 1990's, endorsed by Council in 2001, and approved by the Department of Planning in 2002. The CKPoM covers the entire LGA and continues to be an effective tool to assist Council in managing the balance between the conservation of natural resources and the ongoing community development of the Port Stephens LGA.
For further information on Koalas please visit the Office of Environment and Heritage's website at www.environment.nsw.gov.au/animals/thekoala.htm
For further information on planning and development controls around koalas please visit our Port Stephens Council Comprehensive Koala Plan of Management page.
Koala Organisations and Wildlife Injuries
The following organisations assist in the management and preservation of the Port Stephens Koala population.
Australian Koala Foundation
Is the principal non-governmental organisation in Australia that is focused on saving the koala and its habitat.
The Australian Koala Foundation seeks solutions to the problems facing koalas and is currently drafting a revolutionary piece of legislation called the National Koala Act to provide incentives for landowners to protect koala trees.
Established in 1986, the Australian Koala Foundation funds research, educates people about koalas and their needs, raises awareness, and seeks solutions to the problems facing koalas.
Australian Koala Foundation contact details:
Australian Koala Foundation
GPO Box 2659
Brisbane QLD, 4001
Ph: (07) 3229 7233 fax: (07) 3221 0337
Email: akf@savethekoala.com Website: www.savethekoala.com
Hunter Koala Preservation Society (HKPS)
The aim of the Hunter Koala Preservation Society (HKPS) is to assist with the management and preservation of the Port Stephens koala population.
The main impetus for their formation was the continual threat to koalas from impending development and the resultant loss of their habitat.
HKPS has worked with Port Stephens Council, Australian Koala Foundation and National Parks and Wildlife Service in assisting to establish a Koala Management Plan for Port Stephens.
Other works include the successful re-zoning of land for environmental protection on the Tilligerry Peninsula, plus maintaining a database of sick and injured koalas and autopsy statistics which aids in the ongoing management of koalas.
Hunter Koala Preservation Society Contact details:
Hunter Koala Preservation Society
PO Box 60
ANNA BAY 2316
Email: hunterkoala@gmail.com Website: www.hunterkoala.com
Koala Conservation Crew
The Port Stephens Conservation Crew is a new way for Council to engage with our community on all things conservation in Port Stephens.
The Crew will bring people together who are interested in being part of the solution to some of the biodiversity conservation challenges we face. It will offer a space to learn; a place to share; and importantly a place to get involved and make a difference!
Port Stephens really is a unique place, with diverse environments offering a rich collection of ecosystems, and of course the iconic koala. Find out more.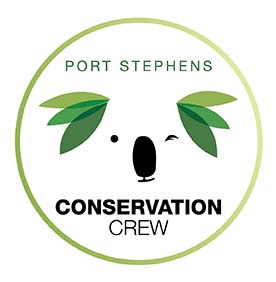 ---
Native Animal Trust Fund
The Native Animal Trust Fund (NATF) was the very first volunteer wildlife rescue group to operate in NSW, commencing over 21 years ago.
They are a non-profit, registered charity organisation which operates under license from the NSW National Parks and Wildlife Service. They are involved in the rescue, rehabilitation and release of sick, injured and orphaned native fauna.
NATF members are volunteers who come from all walks of life, all ages and many different interests. Most have jobs and families and many demands on their time and energy; but all have a love, concern or interest in our wonderful Australian native fauna and it's survival.
The NATF are always looking for people who feel the same way to become members, rescuers and foster carers. The part you play will be your own choice, from financial member only to phone roster to foster carer. It's entriely up to you.
When an animal we have rescued and nursed back to health is released back into the wild it is such a great feeling!
National Animal Trust Fund Inc - Wildlife Rescue Service contact details:
The Secretary - Native Animal Trust Fund Inc - Wildlife Rescue Service.
P O Box 1052
Toronto NSW 2283
Email: natf@bigpond.com
24 Hour Emergency Rescue Hotline - 0418 628 483 OR 0418 N-A-T-I-V-E
---
Flying-foxes
The Grey-headed Flying-fox provides important ecological services, pollinating and spreading seed of native flora, including endangered plant species and communities.
Find out more about Flying-foxes in Port Stephens
---
Threatened Species Surveys
The following independent surveys were prepared by final year placement students in the University of Newcastle Project Management and Placement Course.
The course provides a valuable learning experience for students. They learn about the realities of working with many stakeholders and the public. It also imparts self confidence and a sense of satisfaction that their tireless hard work can produce outcomes that will be used by others to make critical decisions.
Project data have been incorporated into the NSW Wildlife Atlas, which is the first point of contact for many environmental consultants in preparing Environmental Impact Statements and other documents. One project was instrumental in providing data to the NSW Scientific Committee to determine whether one of our more cryptic terrestrial orchid species was a threatened species.
Benefits for Council
Council has benefited immensely from the partnership with the University through the Project Management and Placement course. The students' projects have filled the knowledge gap about many of our threatened species, and their reports, which have been based on unbiased data, have been used in decision making processes.
Contact
Environmental Officer
Phone: 02 49800255
council@portstephens.nsw.gov.au