What are pest animals?
Pest animals are species of non-native animals that cause damage to agriculture, environmental resources, infrastructure or put human safety at risk.
Some pests' impacts are so detrimental that the NSW government requires mandatory actions be carried out, these are called "Madatory Measures" and include not owning or possessing the following animals (without a permit):
Rabbits
Wild Deer
Feral Pigs
Foxes
Camels
Other known pest animals include:
Indian Myna birds and Starlings
Cats
Wild Dogs
Feral Bees
Rodent pests (Mice and Rats)
There are other species that may seem to be a pest, but they are native to Australia and Council has no requirement to control them and it is prohibited to harm them. These include:
Kangaroos
Flying Foxes
Termites
For more information on pests in NSW, visit The Department of Primary Industries Pest Species in NSW.
Who is responsible for pest animals?
Under the Biosecurity Act 2015 everyone in NSW who deals with pest animals, including land managers, recreational land users, other community members and even visitors to the state must manage those pest animals where they present a risk to biosecurity in NSW.
Local Land Services (LLS) is the regulatory authority on pest animals with the Department of Primary Industries (DPI) and are responsible for administering biosecurity legislation, policy, training and education at a statewide level. It is the role of LLS to develop community programs, provide advice, assist land managers and participate in on-ground detection.
Port Stephens Council is obligated and responsible for the management of vertebrate pest animals on land they own, occupy or manage. Council's Invasive Species Team are more than happy to provide information and advice on pest animal management.
Who to contact?
Query
Organisation
Contact information
For pest animal control advice
Hunter Local Land Service

Port Stephens Council:
Invasive Species Team
1300 795 299

(02) 4988 0255
Report pest animals on Council land
Port Stephens Council:
Invasive Species Team
(02) 4988 0255
Other invasive animal enquires or to report declared pest animals
Hunter Local Land Service
1300 795 299
Report unusual animal sightings
Department of Primary Industries
1800 680 244
Stray Cats and Dogs
Port Stephens Council
(02) 4888 0255
Insect and Rodent pests
For insect pests please contact a local pest management contractor*
Bees on Council land posing a threat to safety
Port Stephens Council
(02) 4988 0255
Bees on Private land
Amateur Beekeeper Association NSW*
Find a Beekeeper
*Port Stephens Council takes no liabilities in works carried out by other parties
Pest of Port Stephens Area
Of the declared and known pest species in NSW; the rabbit, myna bird and fox are the ones of most nuisance and impact to Port Stephens.
Rabbit
(Oryctoragus cuniculus)
In Port Stephens, rabbits are well established in urban, agricultural and natural areas. Controlling rabbits can be difficult given legal, ethical and practical constraints. The prolific breeding and damage rabbits cause makes them Port Stephen's most destructive pest.
For more information head to the Department of Primary Industries website
Why are they a pest?
Released into Australia for sport hunting in 1859, the Rabbit has spread nationwide and is Australia and Port Stephens Councils' most destructive pest. They have a number of impacts on our LGA such as:
causing damage to native vegetation,
undermining footing and slabs,
creating holes and diggings
destroying lawns and gardens, and out competing native herbivores for food.
Rabbits will breed at any time of year if there is sufficient food supply such as lawns and gardens. Adults are able to mate from the age of 3 to 4 months and the gestation period is 28 to 30 days. Rabbits can produce seven or eight litters each year with an average litter producing 4 to 5 kittens increasing to 8 by the end of the breeding season. Kittens will leave the nest at around 23 to 25 days old but can survive if the doe dies or abandons them from 16 to 18 days old.
This means rabbits have the ability to produce approximately 480 kittens in a life time of 6 years and their capacity to breed is outstanding.
What can I do?
If you see a dead rabbit in the Nelson Bay, Corlette or Shoal Bay areas, please report it to Port Stephens Council. Alternatively, you can use the RabbitScan App available via the iTunes and Google Play stores to report and record rabbit numbers and activity in your area.
If your property is larger then 1000 square meters you are able to pesticide bait, however there are strict guidelines to follow and measures to be undertaken. For more information, visit the Herbicide and Pesticide information page, contact the Invasive Species Team or Local Land Services (LLS).
For properties smaller then 1000 square meters, a community approach is required for pesticide baiting coordinated by LLS, however bio-control in the form of calicivirus may be appropriate.
For more information on how to purchase and use rabbit pesticide or calicivirus please contact the Invasive Species Team or LLS
What is Council doing?
Port Stephens Council is prioritising assets across the local government area and monitoring rabbit population to continually manage this pest. Council's Invasive Species Team utilises pesticide and warren destruction where appropriate and rabbit calicivirus to reduce populations.
As part of the a new K5 virus program Port Stephens Councils is collaborating with LLS and DPI to introduce the new virus into the population of wild rabbits.
Vaccination is recommended and available from your local Vet for your family pet rabbit.
For more information on the nationwide release of K5, please visit the Pests Smart website.
Indian Myna Bird
(Acridotheres tristis)
The Indian Myna bird is a growing problem throughout Port Stephens. The 'Indian Myna' can often be mistaken for the native 'Noisy Miner'. The Noisy Miner has a mostly grey body and the Indian Myna, a dark brown body. The Noisy Miners are honeyeaters whereas the Indian Myna mainly feed on food scraps.
For more information please head to the Department of Primary Industries website
Indian Myna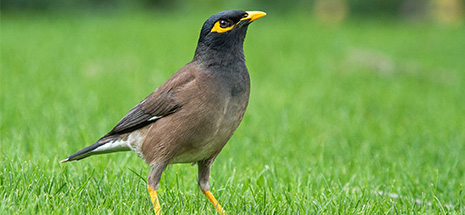 Noisy Miner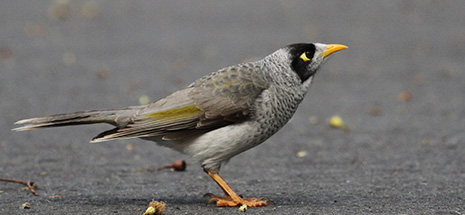 Why are they a pest?
The Indian Myna are a threat to native birds and can create bird mite infestations in buildings.
What can I do?
There are a number of ways to reduce the number of Myna birds on or around your property:
Remove uneaten pet food and don't leave pet food outside and uncovered.
Use bins with lids
Refrain from feeding all birds and do not leave food scraps in picnic areas
Seal off potential entry points for birds into buildings
Plant native vegetation in your garden rather than exotic trees and palms
Increase the frequency of cleaning outdoor eating areas
Restrict access to poultry and stock feed
European Red Fox
(Vulpes vulpes)
The European Red Fox was introduced to Australia in 1845, and within 20 years had achieved 'pest' status. The fox spread rapidly across the country in pursuit of its meals of choice; the rabbit and is now prevalent across much of the country. In NSW, foxes are common in urban areas because of the availability of food sources.
For further information on the European Red Fox, head to the Department of Primary Industries website.
Why are they a pest?
The Fox is readily recognised as having a serious impact on many of our native birds and animals. The Fox is also a major contributor to the extinction of some native species such as birds, turtles, and mammals.
For any further information on Port Stephen's pest species, contact:

Invasive Species Team
Phone: (02) 4988 0392
Email: weeds@portstephens.nsw.gov.au