Aquatic weeds
Port Stephens Council undertakes regular treatments in drains, dams and creeks. We also carry out major river treatments to control the impact of weeds. Council may need to apply herbicides to aquatic weeds that could have the potential to cause pollution of waters and impact other species.
Council holds an Environment Protection Licence (EPL) under the Protection of the Environment Operations Act 1997 (POEO Act) to minimise any impact.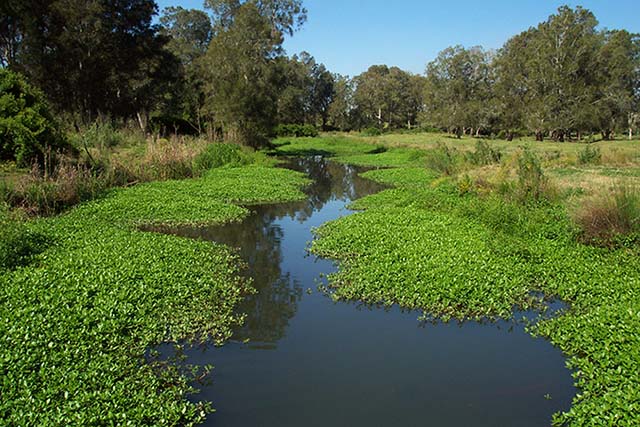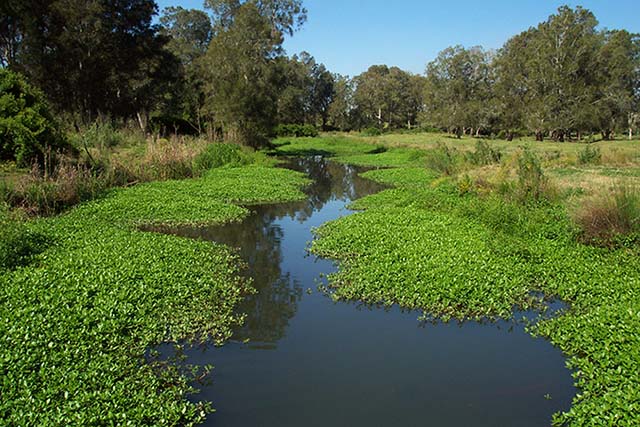 River treatment dates for aquatic weeds
| Hunter, Williams and Paterson River | Start | Finish |
| --- | --- | --- |
| 1st Treatment | 2 November 2018 | 28 November 2018 |
| 2nd Treatment | 1 February 2019 | 27 February 2019 |
| 3rd Treatment | 26 April 2019 | 22 May 2019 |
Why have I received a Aquatic Treatment Notification Letter?
You have received this letter as you occupy land that is near a water course where Port Stephens Council will be treating weeds. There is no need to respond to this letter, but if you have any questions please contact Customer Services on (02) 4988 0255.
Treatments have no effect on drinking water and is only targeted at vegetation growing in the direct water course or a priority weed growing on the banks.
The herbicides used in these treatments have no withholding periods meaning that once dry it has no effect to other plants and/or animals.
Herbicide Environmental Protection Licence
Port Stephens holds a current Environmental Protection Licence. This licence operates under the Protection of the Environment Operations Act 1997 (POEO Act) and relates to the application of herbicides to the waterways of the Port Stephens area.
The licence outlines ways to minimise environmental impacts, prevent water pollution and ensure the implementation of best practice weed management.
The EPL conditions require:
Treatment is conducted by trained staff;
equipment is maintained;
only approved aquatic herbicide is used and detail records of use is kept;
warning signs are used around the waterways being treated and notification is given to surrounding property;
water monitoring is maintained around the Seaham Weir pool; and
Council record and manage complaints and public enquiries about aquatic weed treatments.
Aquatic herbicide selection
The Environmental Protection licence allows for the following 3 herbicides to be used over water:
| Aquatic safe herbicide | Drinking guideline limit (µg/L) |
| --- | --- |
| Glyphosate (used by Council) | 1000 |
| Metsulfuron-methyl (used by Council) | 40 |
| Diquat | 7 |
Seaham Weir Water Monitoring Data
Port Stephens Council is required to sample water to ensure the levels of herbicide used remain below standards outlined in the Australian Drinking Water Guidelines within the Seaham Weir Pool and surrounding areas.
To ensure the public and environmental safety, Council only uses Metsulfuron-methly in the river systems.
Environmental works
Land owned or maintained by Council often undergoes revegetation, rehabilitation and management programs. This is to improve the environmental value of the bushland or to minimise a biosecurity impact. Work on this land is undertaken by Council staff, environmental contractors and volunteers.
Many of these sites having works funded by Crown Land, Environmental trust, and Port Stephens Council.
How can I get involved?
For more information on what works are happening around your area or to get involved in a Volunteer group please contact Customer Services on (02) 4988 0255.
Contact us
If you have a complaint or query about herbicide use in Port Stephens, please contact customer service on (02) 4988 0255 or lodge a pollution incident report.